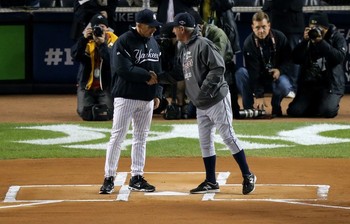 Here are the lineups for Game 4 of the ALCS between the Yankees and Tigers, in Detroit:
   NEW YORK YANKEES               DETROIT TIGERS
1. Ichiro Suzuki, LF           1. Austin Jackson, CF
2. Nick Swisher, RF            2. Omar Infante, 2B
3. Robinson Cano, 2B           3. Miguel Cabrera, 3B
4. Mark Teixeira, 1B           4. Prince Fielder, 1B
5. Raul Ibanez, DH             5. Delmon Young, DH
6. Eric Chavez, 3B             6. Jhonny Peralta, SS
7. Russell Martin, C           7. Andy Dirks, LF
8. Brett Gardner, CF           8. Avisail Garcia, RF
9. Eduardo Nunez, SS           9. Gerald Laird, C

SP CC Sabathia, LH             SP Max Scherzer, RH
Another day, another set of changes to the Yankees' lineup as Joe Girardi has decided to have Curtis Granderson join Alex Rodriguez on the bench against right-hander Max Scherzer. Brett Gardner replaces Granderson in center field, but will bat eighth tonight instead of leading off like he did last night. Nick Swisher is back in the lineup after being benched for Game 3 and Girardi has flipped Robinson Cano and Mark Teixeira in the 3-4 spots.
Omar Infante is healthy enough to play after injuring his thumb late in Game 3, which means Jim Leyland can go with his standard lineup versus left-handers that includes Gerald Laird in for Alex Avila behind the plate and Avisail Garcia subbed for Quintin Berry in the outfield.