We have the Milwaukee Brewers. Now, in Oregon, we have the "Hillsboro Hops," short-season A-ball affiliate of the Arizona Diamondbacks:
"The name 'Hops' recognizes Hillsboro's proud agricultural heritage and the fact that Oregon is the second largest hop producing state in the United States," said K.L. Wombacher, General Manager of the Hillsboro Hops. "Hops is also a term used regularly in baseball –- short hop, bad hop, crow hop. We feel 'Hops' encompasses several different components we wanted to include in our team name."
As Portland's own Rob Neyer noted over at SB Nation, hops also has a heck of a lot to do with beer, and folks in Portland love their beer. And a great logo too: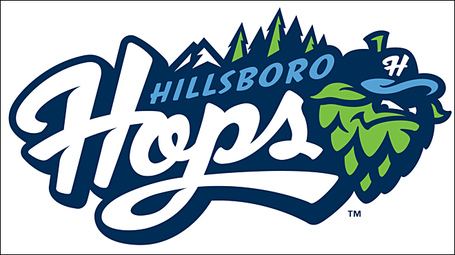 It's nice to see the pro-beer agenda being pushed here. In an age where Bernie Brewer no longer slides into a beer stein following homers, we need to bring some more sudsy goodness back to the game.