Matt Holiday admitted to a mistake Monday after his late takeout slide knocked second baseman Marco Scutaro off his feet and forced him out of the game a couple of innings later. Still, he doesn't think it reflects on him as a player.
"I'm not a dirty player," Holliday replied when asked if he crossed the line. "Like I said, I wish I had started my slide a step earlier. When you're out there in the heat of the moment, you're trying to keep your team out of the double play. I play hard and was trying to break up a double play. That's all it comes down to. I'm trying to break up a double play."
Of course he was. It's crazy to suggest that Holliday went into second base with any intent to injure. However, that doesn't change the fact that it was a terribly reckless move, one that shouldn't have any place on the baseball diamond.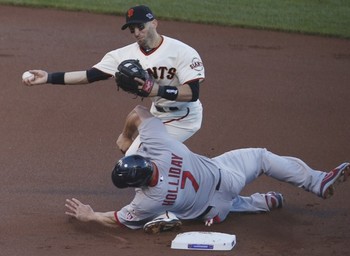 Fortunately for everyone, Scutaro ended up day-to-day with a hip injury instead of being sidelined for months with a blown out knee or a busted ankle. And fortunately for Holliday, there's simply no precedent in MLB for punishing a player for such a slide. That's something the league really should take a look at this winter.