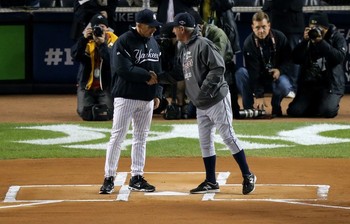 Here are the lineups for Game 3 of the ALCS between the Yankees and Tigers, in Detroit:
   NEW YORK YANKEES               DETROIT TIGERS
1. Brett Gardner, LF           1. Austin Jackson, CF
2. Ichiro Suzuki, RF           2. Quintin Berry, LF
3. Mark Teixeira, 1B           3. Miguel Cabrera, 3B
4. Robinson Cano, 2B           4. Prince Fielder, 1B
5. Raul Ibanez, DH             5. Delmon Young, DH
6. Russell Martin, C           6. Andy Dirks, RF
7. Eric Chavez, 3B             7. Jhonny Peralta, SS
8. Curtis Granderson, CF       8. Alex Avila, C
9. Eduardo Nunez, SS           9. Omar Infante, 2B

SP Phil Hughes, SP             SP Justin Verlander, RH
Joe Girardi has shaken up the Yankees' lineup yet again. Alex Rodriguez is benched in favor of Eric Chavez, Eduardo Nunez takes over for Jayson Nix as Derek Jeter's replacement, and Brett Gardner draws the leadoff assignment while pushing Nick Swisher to the bench. Robinson Cano, despite his struggles, is hitting cleanup. That's a helluva group to trot out versus Justin Verlander, although it's not like Girardi has a ton of appealing options right now.
Jim Leyland is sticking with his standard lineup against right-handers after Detroit scored three runs off Hiroki Kuroda in Game 2.
The first pitch is scheduled for 8:00 ET, so feel free to hang out in the comments section.