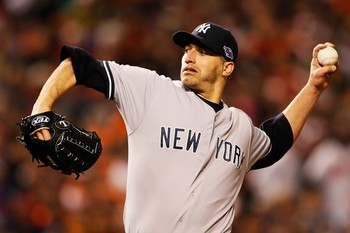 Here are the lineups for Game 1 of the ALCS between the Tigers and Yankees, in New York:
   DETROIT TIGERS              NEW YORK YANKEES
1. Austin Jackson, CF             1. Derek Jeter, SS
2. Omar Infante, 2B                2. Ichiro Suzuki, LF
3. Miguel Cabrera, 3B              3. Robinson Cano, 2B
4. Prince Fielder, 1B              4. Mark Teixeira, 1B
5. Delmon Young, DH             5. Raul Ibanez, DH
6. Jhonny Peralta, SS             6. Alex Rodriguez, 3B
7. Andy Dirks, LF              7. Nick Swisher, RF
8. Avisail Garcia, RF               8. Curtis Granderson, CF
9. Gerald Laird, C               9. Russell Martin, C

SP Doug Fister, RHP             SP Andy Pettitte, LHP
Jim Leyland has seven right-handed batters in his lineup against southpaw Andy Pettitte. Avisail Garcia is playing right field over Quintin Berry while Gerald Laird will start behind the plate rather than Alex Avila. While this is Leyland's standard lineup against southpaws, the Tigers had a pretty tough time getting anything going against Tommy Milone and Brett Anderson during the ALDS. They'll hope for more production this time.
As we mentioned earlier, Alex Rodriguez is back in the starting lineup tonight after he was benched for the decisive Game 5 of the ALDS against the Orioles yesterday. However, he'll slide down to the sixth spot. He batted third in the first three games of the ALDS and fifth in Game 4. Raul Ibanez remains in the DH spot with the right-hander Doug Fister on the hill for the Tigers. Meanwhile, Nick Swisher, Curtis Granderson and Russell Martin all move down a spot in the order.
First pitch is slated for 8:07 p.m. ET. Feel free to discuss the game in the comments section.