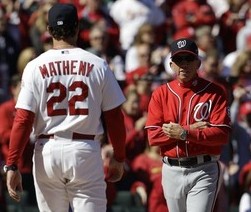 Here are the lineups for Game 5 of the NLDS between the Cardinals and Nationals, in Washington:
   ST. LOUIS CARDINALS            WASHINGTON NATIONALS
1. Jon Jay, CF                 1. Jayson Werth, RF
2. Carlos Beltran, RF          2. Bryce Harper, CF
3. Matt Holliday, LF           3. Ryan Zimmerman, 3B
4. Allen Craig, 1B             4. Adam LaRoche, 1B
5. Yadier Molina, C            5. Michael Morse, LF
6. David Freese, 3B            6. Ian Desmond, SS
7. Daniel Descalso, 2B         7. Danny Espinosa, 2B
8. Pete Kozma, SS              8. Kurt Suzuki, C
9. Adam Wainwright, RHP        9. Gio Gonzalez, LHP
There have been tons of lineup changes in the Orioles-Yankees series, including some headline-grabbers, but both Mike Matheny and Davey Johnson are sticking with the standard lineups they've used throughout the NLDS.
With the same starting pitchers and the same starting position players in Game 1, the Nationals won 3-2.