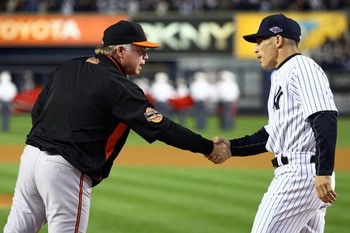 Here are the lineups for Game 5 of the ALDS between the Orioles and Yankees, in New York:
   BALTIMORE ORIOLES              NEW YORK YANKEES
1. Nate McLouth, LF              1. Derek Jeter, SS
2. J.J. Hardy, SS                2. Ichiro Suzuki, LF
3. Adam Jones, CF                3. Robinson Cano, 2B
4. Chris Davis, RF               4. Mark Teixeira, 1B
5. Matt Wieters, C               5. Raul Ibanez, DH
6. Manny Machado, 3B             6. Nick Swisher, RF
7. Mark Reynolds, 1B             7. Curtis Granderson, CF
8. Lew Ford, DH                  8. Russell Martin, C
9. Robert Andino, 2B             9. Eric Chavez, 3B

SP Jason Hammel, RHP             SP CC Sabathia, LHP
Buck Showalter is going with a slightly different lineup than he used against CC Sabathia in Game 1 of the series, picking Chris Davis as his cleanup hitter (Davis batted seventh in Game 1) and moving Manny Machado ahead of Mark Reynolds. And, like in Game 1, he's benched Jim Thome versus a left-hander and given the designated hitter start to Lew Ford.
Last night Joe Girardi moved Alex Rodriguez from third to fifth in the order, eventually pinch-hitting for him. And tonight A-Rod is out of the lineup completely, getting benched in favor Eric Chavez while Raul Ibanez takes over as the No. 5 hitter. Girardi also moved Robinson Cano up from fourth to third to have the switch-hitting Mark Teixeira in between lefties Cano and Ibanez. Derek Jeter and Russell Martin are the only right-handed hitters in the lineup against Orioles right-hander Jason Hammel.