Normally it's not until November when you see people proposing ridiculous trades that would benefit the team they root for or cover but which make no freaking sense whatsoever. Down in Dallas, that season has come early this year: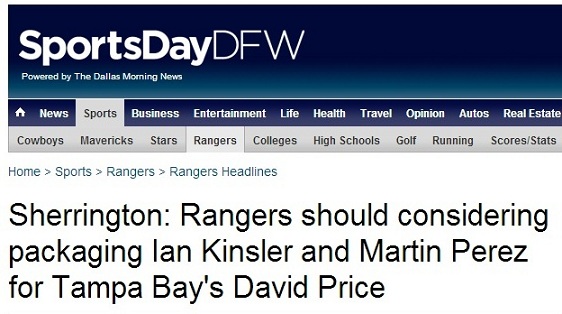 It's pretty bad when a glaring typo in the headline isn't the worst thing about your story. And I'm a guy who knows from glaring headline typos.
Anyway, I agree. I think Jon Daniels should totally call the Rays and ask if they'd trade their Cy Young-caliber starter for a second baseman who is older than 30 and a pitching prospect who walks too many guys and has repeated every level of the minors in which he has been placed.*  I'm sure they won't laugh his butt off the phone with that one, no siree.
*OK, I was too hasty with that comment. Perez has technically spent time in various minor league levels in multiple years, but it hasn't been full seasons and it was more a function of his age — he has been younger than his leagues at each level — than it has been because of ineffectiveness, which is generally when the "he repeated his level" comments are applicable.  My bad.
Still, doesn't make that trade proposal make any more sense, but no sense slagging on the guy like that.