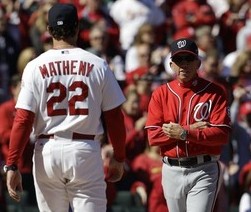 Here are the lineups for Game 4 of the NLDS between the Cardinals and Nationals, in Washington:
   ST. LOUIS CARDINALS            WASHINGTON NATIONALS
1. Jon Jay, CF                 1. Jayson Werth, RF
2. Carlos Beltran, RF          2. Bryce Harper, CF
3. Matt Holliday, LF           3. Ryan Zimmerman, 3B
4. Allen Craig, 1B             4. Adam LaRoche, 1B
5. Yadier Molina, C            5. Michael Morse, LF
6. David Freese, 3B            6. Ian Desmond, SS
7. Daniel Descalso, 2B         7. Danny Espinosa, 2B
8. Pete Kozma, SS              8. Kurt Suzuki, C
9. Kyle Lohse, RHP             9. Ross Detwiler, LHP
Mike Matheny has gone with the same starters versus righties and lefties this series, which means Nationals southpaw Ross Detwiler will face a lineup that includes only two lefty bats in leadoff man Jon Jay and seventh hitter Daniel Descalso. Detwiler was far worse against righties (.263 AVG, .734 OPS) than lefties (.170 AVG, .513 OPS) this season, so it's a pretty tough matchup for him on paper.
Davey Johnson is sticking with his standard lineup, which has scored 3, 4, and 0 runs in the first three games of the series. During the regular season Washington had the third-best OPS in the league against right-handed pitching, including scoring 12 runs in 12 innings versus Cardinals starter Kyle Lohse, but through three playoff games the Nationals have hit just .234 with a .610 OPS off righties.