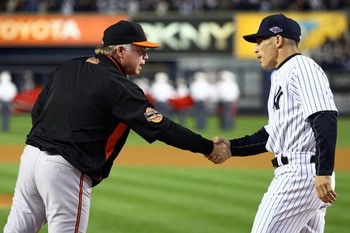 Here are the lineups for Game 4 of the ALDS between the Orioles and Yankees, in New York:
   BALTIMORE ORIOLES              NEW YORK YANKEES
1. Nate McLouth, LF              1. Derek Jeter, DH
2. J.J. Hardy, SS                   2. Ichiro Suzuki, LF
3. Chris Davis, RF                3. Mark Teixeira, 1B
4. Adam Jones, CF                 4. Robinson Cano, 2B
5. Matt Wieters, C                  5. Alex Rodriguez, 3B
6. Jim Thome, DH                   6. Nick Swisher, RF
7. Mark Reynolds, 1B             7. Russell Martin, C
8. Ryan Flaherty, 2B              8. Curtis Granderson, CF
9. Manny Machado 3B             9. Jayson Nix, SS

SP Joe Saunders, LHP            SP Phil Hughes, RHP
With his team's back up against the wall, Buck Showalter will use the same lineup he did in Game 3. Joe Saunders is back on the hill for the Orioles after allowing one run over 5 2/3 innings in the one-game Wild Card playoff game against the Rangers last Friday.
The Yankees have made a number of changes following their dramatic victory last night. Derek Jeter is in the lineup after leaving last night's game with an injury to his left foot, but he'll serve as the designated hitter. Meanwhile, Jayson Nix will fill in at shortstop. Alex Rodriguez is back at third base after serving as the DH last night and later being pinch-hit for by Raul Ibanez, but he'll slide down to the fifth spot in the order. Mark Teixeira will hit third while Nick Swisher and Curtis Granderson both slide down a spot. Notable by his absence is Ibanez, who will once again be available off the bench as a late-inning pinch-hit threat.