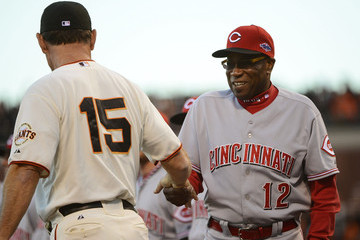 Here are the lineups for Game 4 of the NLDS between the Giants and Reds, in Cincinnati:
   SAN FRANCISCO GIANTS           CINCINNATI REDS
1. Angel Pagan, CF             1. Brandon Phillips, 2B
2. Marco Scutaro, 2B           2. Zack Cozart, SS
3. Pablo Sandoval, 3B          3. Joey Votto, 1B
4. Buster Posey, 1B            4. Ryan Ludwick, LF
5. Hunter Pence, RF            5. Jay Bruce, RF
6. Hector Sanchez, C           6. Todd Frazier, 3B
7. Gregor Blanco, LF           7. Dioner Navarro, C
8. Brandon Crawford, SS        8. Drew Stubbs, CF
9. Barry Zito, SP              9. Mike Leake, SP
The big story for this game is that Johnny Cueto was removed from the Reds' playoff roster with a strained oblique muscle and has been replaced by Mike Leake, who'll start Game 4 on two weeks rest. Leake tossed a one-run complete game against the Giants during the regular season, but was mediocre enough overall that the Reds opted to leave him off the postseason roster.
In addition to the Cueto/Leake switch manager Dusty Baker has made a pair of lineup changes, benching Scott Rolen for Todd Frazier at third base and Ryan Hanigan for Dioner Navarro at catcher. Our own Matthew Pouliot wrote last night that it was time for Rolen to take a seat and even before his Game 3 error plenty of Reds fans were clamoring for Frazier.
Bruce Bochy made a change to the Giants' lineup, giving Buster Posey a day off from catching by shifting him to first base and inserting Hector Sanchez behind the plate at the expense of Brandon Belt. Not only is Barry Zito on the Giants' playoff roster after being left off in 2010, he got the Game 4 starting nod over Tim Lincecum. Imagine telling a Giants fan that was going to happen back in spring training.