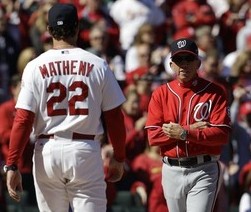 Here are the lineups for Game 3 of the NLDS between the Cardinals and Nationals, in Washington:
   ST. LOUIS CARDINALS            WASHINGTON NATIONALS
1. Jon Jay, CF                 1. Jayson Werth, RF
2. Carlos Beltran, RF          2. Bryce Harper, CF
3. Matt Holliday, LF           3. Ryan Zimmerman, 3B
4. Allen Craig, 1B             4. Adam LaRoche, 1B
5. Yadier Molina, C            5. Michael Morse, LF
6. David Freese, 3B            6. Ian Desmond, SS
7. Daniel Descalso, 2B         7. Danny Espinosa, 2B
8. Pete Kozma, SS              8. Kurt Suzuki, C
9. Chris Carpenter, RHP        9. Edwin Jackson, RHP
As the 1-1 series shifts to Washington both managers are sticking with their standard lineups that were used in each of the first two games.
Edwin Jackson mostly struggled down the stretch, posting a 6.54 ERA in six September starts, but finished the season on a high note with 6.2 innings of one-run ball versus the Phillies last Wednesday.
This will be Chris Carpenter's fourth start since returning from what was initially said to be "season-ending" surgery for thoracic outlet syndrome. He had a 3.71 ERA and 12/3 K/BB ratio in 17 innings through his first three starts, averaging 90.5 miles per hour with his fastball.