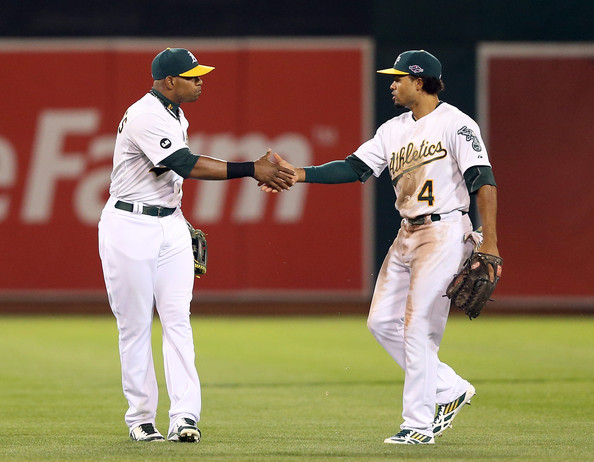 Here are the lineups for Game 4 of the ALDS between the Tigers and A's. First pitch is 9:37 p.m. ET:
DETROIT TIGERS               OAKLAND ATHLETICS
1. Austin Jackson, CF        1. Coco Crisp, CF
2. Quintin Berry, LF         2. Stephen Drew, SS
3. Miguel Cabrera, 3B        3. Yoenis Cespedes, LF
4. Prince Fielder, 1B        4. Brandon Moss, 1B
5. Delmon Young, DH          5. Josh Reddick, RF
6. Andy Dirks, RF            6. Josh Donaldson, 3B
7. Jhonny Peralta, SS        7. Seth Smith, DH
8. Alex Avila, C             8. Derek Norris, C
9. Omar Infante, 2B          9. Cliff Pennington, 2B

SP Max Scherzer, RH          SP A.J. Griffin, RH
The Tigers have made a couple of lineup changes after losing to left-hander Brett Anderson in Game 3 on Tuesday night. Berry is back in left field, Dirks is back in right and Avisail Garcia will open on the bench. Also, Avila is back behind the plate following a rare Gerald Laird start on Tuesday.
The A's are sticking with the same batting order that kept them alive in Game 3.
Detroit leads the five-game series 2-1. This one will be broadcast on TNT.