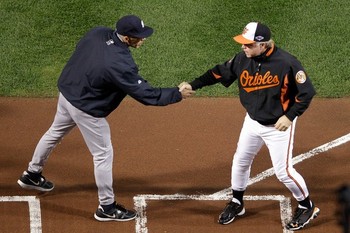 Here are the lineups for Game 3 of the ALDS between the Orioles and Yankees, in New York:
   BALTIMORE ORIOLES              NEW YORK YANKEES
1. Nate McLouth, LF            1. Derek Jeter, SS
2. J.J. Hardy, SS              2. Ichiro Suzuki, LF
3. Chris Davis, RF             3. Alex Rodriguez, DH
4. Adam Jones, CF              4. Robinson Cano, 2B
5. Matt Wieters, C             5. Nick Swisher, RF
6. Jim Thome, DH               6. Mark Teixeira, 1B
7. Mark Reynolds, 1B           7. Curtis Granderson, CF
8. Ryan Flaherty, 2B           8. Russell Martin, C
9. Manny Machado, 3B           9. Eric Chavez, 3B

SP Miguel Gonzalez, RHP        SP Hiroki Kuroda, RHP
Facing right-hander Hiroki Kuroda instead of left-hander Andy Pettitte, manager Buck Showalter flipped Jim Thome and Mark Reynolds in the 6-7 spots, dropped Manny Machado down one spot, and benched Robert Andino in favor of Ryan Flaherty at second base.
Joe Girardi is keeping Alex Rodriguez in the No. 3 spot despite fans calling for a demotion in the batting order, although he does have A-Rod at designated hitter instead of third base. Eric Chavez is playing third base and batting ninth, where Eduardo Nunez was used as the DH in Game 2. Raul Ibanez sits versus a right-hander, which is uncommon, and with a righty on the mound Girardi flipped Curtis Granderson and Russell Martin in the 7-8 spots.