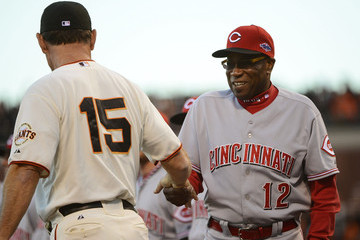 Here are the lineups for Game 3 of the NLDS between the Giants and Reds, in Cincinnati:
   SAN FRANCISCO GIANTS           CINCINNATI REDS
1. Angel Pagan, CF             1. Brandon Phillips, 2B
2. Marco Scutaro, 2B           2. Zack Cozart, SS
3. Pablo Sandoval, 3B          3. Joey Votto, 1B
4. Buster Posey, C             4. Ryan Ludwick, LF
5. Hunter Pence, RF            5. Jay Bruce, RF
6. Brandon Belt, 1B            6. Scott Rolen, 3B
7. Gregor Blanco, LF           7. Ryan Hanigan, C
8. Brandon Crawford, SS        8. Drew Stubbs, CF
9. Ryan Vogelsong, SP          9. Homer Bailey, SP
Bruce Bochy and Dusty Baker are both using the exact same lineups they used in Game 1 and Game 2, so obviously the handedness of the starting pitchers involved doesn't matter to either manager. Todd Frazier is on the Reds' bench for the third straight game, as Baker sticks with veteran Scott Rolen at third base instead of the rookie who hit .273 with 19 homers and an .829 OPS in 465 regular season plate appearances.
Homer Bailey was initially scheduled to start Game 4, but that changed when Johnny Cueto exited the series-opener with a back injury and Mat Latos was needed in relief. Bailey tossed a no-hitter two weeks ago and finished the season with 13 straight shutout innings. And with their season on the line the Giants will turn to Ryan Vogelsong, who struggled for most of August and September before stringing together a few solid outings to finish the season.