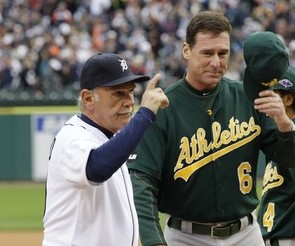 Here are the lineups for Game 3 of the ALDS between the Tigers and A's, in Oakland:
   DETROIT TIGERS                 OAKLAND A'S
1. Austin Jackson, CF          1. Coco Crisp, CF
2. Omar Infante, 2B            2. Stephen Drew, SS
3. Miguel Cabrera, 3B          3. Yoenis Cespedes, LF
4. Prince Fielder, 1B          4. Brandon Moss, 1B
5. Delmon Young, DH            5. Josh Reddick, RF
6. Jhonny Peralta, SS          6. Josh Donaldson, 3B
7. Andy Dirks, LF              7. Seth Smith, DH
8. Avisail Garcia, RF          8. Derek Norris, C
9. Gerald Laird, C             9. Cliff Pennington, 2B

SP Anibal Sanchez, RHP         SP Brett Anderson, LHP
Detroit is using all right-handed starting pitchers this series, which means Oakland is going with the left-handed-hitting half of manager Bob Melvin's various platoons. Except for at catcher, where Derek Norris is back in the lineup after giving way to George Kottaras in Game 2.
Jim Leyland doesn't platoon quite as much, but for the second straight game he's going with the right-handed-hitting Gerald Laird behind the plate instead of the left-handed-hitting Alex Avila because the A's are using a southpaw starter. And that southpaw starter, Brett Anderson, is pitching for the first time since injuring his oblique on September 19.