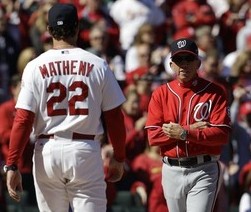 Here are the lineups for Game 2 of the NLDS between the Cardinals and Nationals, in St. Louis:
   ST. LOUIS CARDINALS            WASHINGTON NATIONALS
1. Jon Jay, CF                 1. Jayson Werth, RF
2. Carlos Beltran, RF          2. Bryce Harper, CF
3. Matt Holliday, LF           3. Ryan Zimmerman, 3B
4. Allen Craig, 1B             4. Adam LaRoche, 1B
5. Yadier Molina, C            5. Michael Morse, LF
6. David Freese, 3B            6. Ian Desmond, SS
7. Daniel Descalso, 2B         7. Danny Espinosa, 2B
8. Pete Kozma, SS              8. Kurt Suzuki, C
9. Jaime Garcia, LHP           9. Jordan Zimmermann, RHP
Both teams are going with the exact same lineups they had in Game 1, which is interesting because the handedness of the pitchers changed for both sides. St. Louis is starting left-hander Jaime Garcia after using right-hander Adam Wainwright in Game 1, while Washington is starting right-hander Jordan Zimmermann after using left-hander Gio Gonzalez.
Of course, it's not like it would make any sense for Mike Matheny to bench any of his all right-handed 3-4-5-6 hitters and the only left-handed hitters in Davey Johnson's lineup are Bryce Harper and Adam LaRoche.
The first pitch is at 4:37 ET, so feel free to hang out in the comments section during the game.