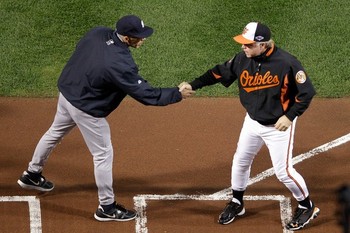 Here are the lineups for Game 2 of the ALDS between the Orioles and Yankees, in Baltimore:
   BALTIMORE ORIOLES              NEW YORK YANKEES
1. Nate McLouth, LF            1. Derek Jeter, SS
2. J.J. Hardy, SS              2. Ichiro Suzuki, LF
3. Chris Davis, RF             3. Alex Rodriguez, 3B
4. Adam Jones, CF              4. Robinson Cano, 2B
5. Matt Wieters, C             5. Nick Swisher, RF
6. Mark Reynolds, 1B           6. Mark Teixeira, 1B
7. Jim Thome, DH               7. Russell Martin, C
8. Manny Machado, 3B           8. Curtis Granderson, CF
9. Robert Andino, 2B           9. Eduardo Nunez, DH

SP Wei-Yin Chen, LHP           SP Andy Pettitte, LHP
Despite the Yankees throwing back-to-back left-handers manager Buck Showalter is using a different lineup against Andy Pettitte than he had against CC Sabathia. Lew Ford is benched, with Jim Thome replacing him at designated hitter. Left-handed-hitting Chris Davis slides up from seventh to third, moving everyone else down. Pettitte held lefties a .202 batting average and .516 OPS, compared to .245 and .681 from righties, so on paper at least Showalter's changes look … well, let's say interesting.
Meanwhile, the Yankees are facing left-hander Wei-Yin Chen instead of right-hander Jason Hammel, so manager Joe Girardi flipped Curtis Granderson and Russell Martin in the 7-8 spots and benched Raul Ibanez in favor of Eduardo Nunez. Nunez as a starting designated hitter in a playoff game is pretty weird considering his .384 career slugging percentage, although he's been slightly better versus lefties.