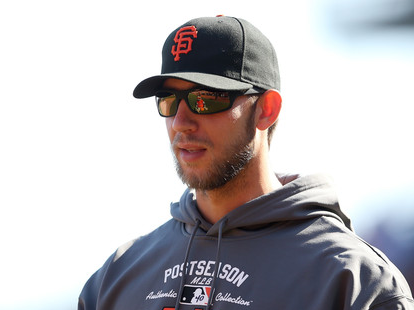 Here are the lineups for Game 2 of the NLDS between the Reds and Giants. First pitch is 9:30 p.m. ET:
  CINCINNATI REDS             SAN FRANCISCO GIANTS
1. Brandon Phillips, 2B     1. Angel Pagan, CF
2. Zack Cozart, SS          2. Marco Scutaro, 2B
3. Joey Votto, 1B           3. Pablo Sandoval, 3B
4. Ryan Ludwick, LF         4. Buster Posey, C
5. Jay Bruce, RF            5. Hunter Pence, RF
6. Scott Rolen, 3B          6. Brandon Belt, 1B
7. Ryan Hanigan, C          7. Gregor Blanco, LF
8. Drew Stubbs, CF          8. Brandon Crawford, SS
9. Bronson Arroyo, RHP      9. Madison Bumgarner, LHP
Despite the matchup against a left-hander, the Reds will roll with the same lineup that netted them a Game 1 victory on Saturday night over righty Matt Cain. Some Reds fans have been clamoring for Todd Frazier to get the nod over Rolen at third base, but you know how manager Dusty Baker loves his veterans.
The Giants are also featuring the same batting order as Game 1. They'll just hope for more production.
This one is being broadcast by TBS. We'll have the usual in-game updates and postgame reaction.