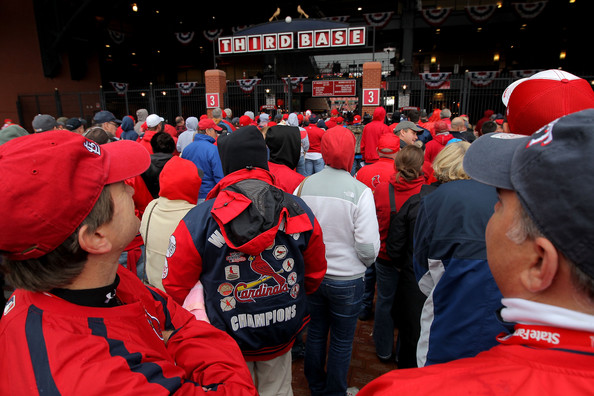 Here are the lineups for Game 1 of the NLDS between the Nats and Cards, scheduled for 3:00 p.m. ET:
ST. LOUIS CARDINALS             WASHINGTON NATIONALS
1. Jon Jay, CF                 1. Jayson Werth, RF
2. Carlos Beltran, RF          2. Bryce Harper, CF
3. Matt Holliday, LF           3. Ryan Zimmerman, 3B
4. Allen Craig, 1B             4. Adam LaRoche, 1B
5. Yadier Molina, C            5. Michael Morse, LF
6. David Freese, 3B            6. Ian Desmond, SS
7. Daniel Descalso, 2B         7. Danny Espinosa, 2B
8. Pete Kozma, SS              8. Kurt Suzuki, C
9. Adam Wainwright, RHP        9. Gio Gonzalez, LHP
Cardinals manager Mike Matheny will ride with what became his everyday lineup over the final month of the regular season against Gonzalez, a National League Cy Young Award candidate. It's a lethal batting order through the first six spots then tails off at Descalso. Kozma posted a shiny .952 OPS in 82 plate appearances after joining the Cardinals on August 31 to replace the injured Rafael Furcal, but he was a .232/.292/.355 hitter in 500 plate appearances before that at Triple-A Memphis. The hotness probably won't last.
The Nats will also keep things simple, going with their usual starting nine in this NLDS opener in St. Louis. Wainwright boasts a 2.74 career ERA at Busch Stadium, so it could be a tough afternoon for both offenses.