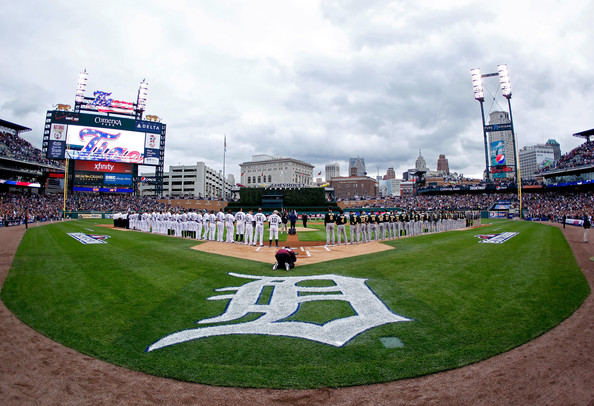 Here are the lineups for Game 2 of the ALDS between the A's and Tigers, set to get underway at 12 p.m. ET:
    OAKLAND ATHLETICS             DETROIT TIGERS
1. Coco Crisp, CF              1. Austin Jackson, CF
2. Stephen Drew, SS            2. Omar Infante, 2B
3. Yoenis Cespedes, LF         3. Miguel Cabrera, 3B
4. Brandon Moss, 1B            4. Prince Fielder, 1B
5. Josh Reddick, RF            5. Delmon Young, DH
6. Josh Donaldson, 3B          6. Jhonny Peralta, SS
7. Seth Smith, DH              7. Andy Dirks, LF
8. George Kottaras, C          8. Avisail Garcia, RF
9. Cliff Pennington, 2B        9. Gerald Laird, C

SP Tommy Milone, LH            SP Doug Fister, RH
The A's have made just one lineup change following Saturday's Game 1 loss, subbing in Kottaras for Derek Norris at catcher. Norris, a 23-year-old rookie, went 0-for-3 with a strikeout Saturday in his first taste of MLB's postseason. Kottaras is a poor defensive backstop, but his bat does have some pop. And the Athletics will be hoping to pour on runs with Justin Verlander out of the picture for Detroit.
The Tigers, meanwhile, are featuring sweeping changes to their batting order with the A's tossing a left-hander in Game 2. A-Jax remains in his familiar leadoff spot, but it'll be Infante hitting second rather than Quintin Berry, who will open the game on the bench. Peralta will hit sixth rather than seventh and Laird will start at catcher despite Alex Avila going 2-for-3 with a homer in Saturday's Game 1 victory. Garcia, a 21-year-old from Venezuela, will make his first start in a major league postseason game.
Consider this an open thread. The game is being broadcast on MLB Network.