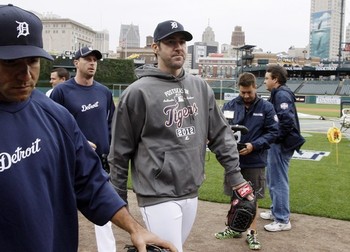 Here are the Athletics' and Tigers' lineups for Game 1 of the ALDS, which is set to begin around 6 p.m. ET:
   OAKLAND ATHLETICS         DETROIT TIGERS
1. Coco Crisp, CF                1. Austin Jackson, CF
2. Stephen Drew, SS             2. Quintin Berry, LF
3. Yoenis Cespedes, LF         3. Miguel Cabrera, 3B
4. Brandon Moss, 1B             4. Prince Fielder, 1B
5. Josh Reddick, RF              5. Delmon Young, DH
6. Josh Donaldson, 3B          6. Andy Dirks, RF
7. Seth Smith, DH                 7. Jhonny Peralta, SS
8. Derek Norris, C               8. Alex Avila, C
9. Cliff Pennington, 2B        9. Omar Infante, 2B

SP Jarrod Parker, RH       SP Justin Verlander, RH
Bob Melvin is using a pretty standard lineup with right-hander Justin Verlander on the mound, including Brandon Moss at first base and Seth Smith out of the DH spot. The Tigers don't have any lefties in their playoff rotation, so Chris Carter and Jonny Gomes will mostly be a factor against the bullpen. According to statistician David Feldman, the A's will be the second team ever to start four rookies in a playoff game. The first was the 2007 Diamondbacks, who were also managed by Melvin. Not surprisingly, the A's don't have a ton of experience against Verlander. Coco Crisp is 8-22 (.364) lifetime against him while everyone else in the lineup has 49 at-bats combined.
No big surprises in the Tigers' lineup, as Quintin Berry and Andy Dirks are in the corner outfield spots while Delmon Young will serve as the designated hitter. This is pretty much the same exact lineup Jim Leyland used over the final couple weeks of the season. Berry is primed to see a lot of at-bats during this series, despite posting a pretty terrible .218/.270/.293 batting line and 38/8 K/BB ratio in 162 plate appearances since the All-Star break. It goes without saying, but Berry and Young aren't ideal options to have in the first five spots in the batting order. But if Verlander dominates, it might not matter.
Feel free to chat during the game in the comments section.