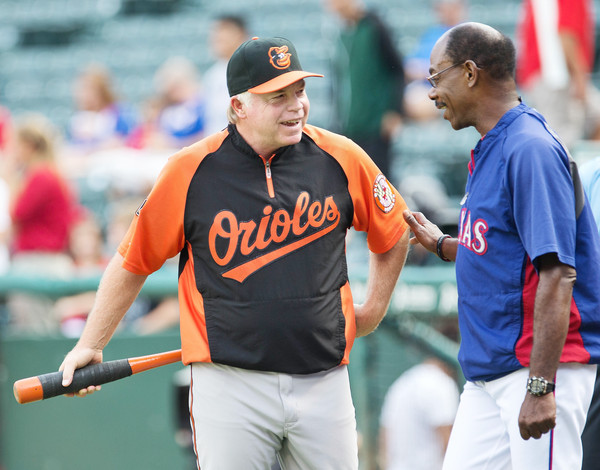 Here are the Orioles' and Rangers' lineups for the Wild Card playoff game:
   BALTIMORE ORIOLES         TEXAS RANGERS
1. Nate McLouth, LF       1. Ian Kinsler, 2B
2. J.J. Hardy, SS         2. Elvis Andrus, SS
3. Chris Davis, RF        3. Josh Hamilton, LF
4. Adam Jones, CF         4. Adrian Beltre, 3B
5. Matt Wieters, C        5. Nelson Cruz, RF
6. Jim Thome, DH          6. Michael Young, 1B
7. Mark Reynolds, 1B      7. Mike Napoli, DH
8. Ryan Flaherty, 2B      8. Geovany Soto, C
9. Manny Machado, 3B      9. Craig Gentry, CF

SP Joe Saunders, LH       SP Yu Darvish, RH
Buck Showalter is going with what has become his standard lineup versus right-handed pitching following injuries to Nick Markakis and Wilson Betemit. Jim Thome gets the start at designated hitter and will be playing in his 68th career playoff game at age 41. Of the nine players starting for the Orioles tonight only Matt Wieters, Adam Jones, and J.J. Hardy were in the Opening Day lineup at the same position (Chris Davis and Mark Reynolds also played the opener, but at different spots than tonight).
Ron Washington stacked the Rangers' lineup with right-handed bats against left-hander Joe Saunders. David Murphy played regularly against lefties during the season, but he's benched tonight in favor of Craig Gentry, which also shifts Josh Hamilton from center field to left field. Lefty-hitting Mitch Moreland is also out of the lineup, with Michael Young taking over for him at first base and Mike Napoli sliding into Young's usual designated hitter spot. Geovany Soto, who was acquired from the Cubs to be Napoli's backup, will catch Yu Darvish's playoff debut.
Feel free to chat during the game in the comments section.