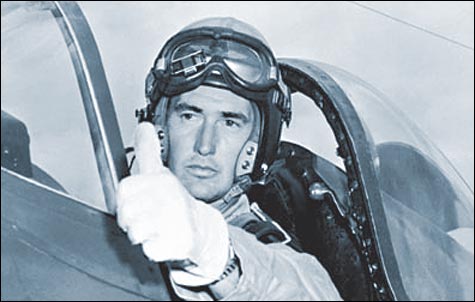 Hi, I'm Ted Williams, The Greatest Hitter who Ever Lived.
My time is brief — I'm here thanks to a passing chrono-synclastic infundibulum and it's gonna take me back to Baseball Valhalla soon– but I had somethin' I wanted to talk to you all about before I go.
I know a lot of you are concerned right now that this Miguel Cabrera fella may win the Triple Crown and still not win the MVP Award. You're worried that all of those kids with the calculators and the fancy statistics are gonna make the case for this Mike Trout kid.  Boy, howdy, that will be an unpleasant few weeks of arguin'. Everyone talkin' about "WAR" and whatnot. Let me tell you something, I fought in two wars and if I never hear the term again, it won't be too soon.
But let me let you in on a little secret: I won the triple crown twice: in 1942 and again in 1947. And you know what happened? Yessir, I lost the MVP award. Both times. The first time to some second baseman who led the league in strikeouts. I bet that even though that guy is also in the Hall of Fame, most of you couldn't even come up with his name without checkin' first. Go ahead, give it a try. Ha ha, I knew it.
The second time I won the triple crown I lost it to a fella you have heard of: Joe DiMaggio. Now, don't get me wrong, Joe was a helluva player. But go take a look, my friends: he didn't lead the American League in any significant statistical category in 1947. Heck, I had over one hundred points on him in on-base percentage. He had a lot of good teammates that year, no question, and his boys won the World Series like they always did, but that may have been his seventh best season in a thirteen year career.
Not that old Ted gettin' overlooked was anything new. 1941 was a humdinger of a year. I hit over .400! No one has done it since. That's over 70 years now, and only a couple of fellas have even sniffed at it. And it wasn't empty average, either: I led the league in slugging percentage, on-base percentage (.553, my friends), batting average, runs, walks and home runs.  And guess what? That's right, old Joe won that MVP award. All because he had a 56-game hitting streak. And heck, I even had a better average during his hitting streak than he did!  You can look it up.
But I'm not tellin' you all of this to get your sympathy. I don't need it. My legacy is secure. No one thinks less of me as a ballplayer. And Ted here is comfortable in his own skin. Probably more comfortable than old Joe is. No, I'm tellin' you this because I want you to know that, from what I can tell about this Cabrera fella, he's gonna be alright if you don't give him the MVP. Probably more than alright. And if I'm bein' honest, I don't think he should win it anyway, triple crown or no.
I'm no math whiz, but I can tell that this Trout kid has had a better year than Cabrera. He's not been the hitter that Cabrera has been. Close, sure, but not quite. But the thing about that MVP Award is that you have to look at both offense and defense. And when it comes to defense Cabrera can't hold a candle to the kid. The kid is a fantastic center fielder. Cabrera is a bad third baseman. If you need to look at some numbers to tell you that, well, you're beyond helping. Same goes for his base running, too, and that matters a whole lot.
I bet Cabrera knows all this.  And what's he gonna do, complain about it? When he knows that Old Ted was jobbed way worse than he ever could be?
Oh well, it looks like it's time for me to be goin'. But I'm glad we had this talk.  Think about it a little. And when everyone starts to fussin' and fightin' over the MVP award, ask yourself: will the world really end if a triple crown winner doesn't get it?  I think you coulda figured that out even if I hadn't talked to you today.
Bye, friends.