Because he's bad at baseball,* Yunel Escobar has long been widely derided by fans of any team he's played for.  But now there is a reason for the rest of us to loathe him. He's quite possibly a homophobic jackass.
Caught by Jays fan @james_in_to and featured over at the Drunk Jays Fan blog, pictures taken of Yunel Escobar on Saturday clearly show that he's wearing eye black stickers on which he — or someone else, which is why I used the "quite possibly" above — wrote the words "TU ERE MARICON," which translates to "you are a fa**ot."  As @james_in_to explains, in some cases it can mean "you are a p***y," but the former is more widely accepted as the meaning.
The pic at the link is a closeup, but you can see it in this Getty Images photo as well: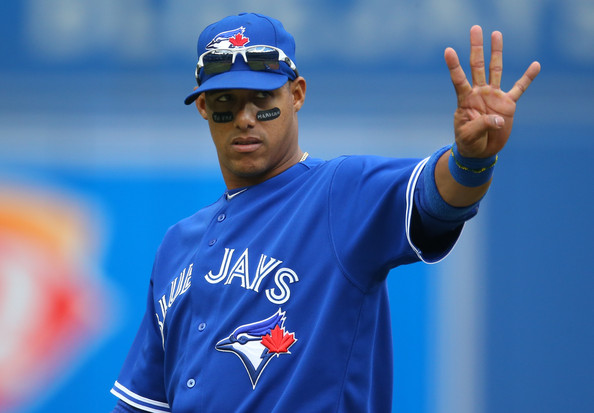 Whether it was Escobar who did it or someone else, it's evidence of a severe and odious lack of maturity.  And I hope someone in Major League Baseball HQ takes notice and then takes action.
UPDATE: MLB spokesman Pat Courtney told ESPN's Jerry Crasnick that they are looking into the situation.
*Fine, you're right that was a cheap shot. He's bad this year, but he's generally been a good player. Normally I'd delete that, but enough people have commented on it that to do so now would be unfair of me. I'll own up to my displeasure with him in this instance making me say something inaccurate about the guy.