I went to D.C. on Friday. The impetus for the trip: my friend, who does business development in the commercial real estate world, was gifted with the use of a luxury suite for the Nats-Mets game. She filled it up with clients and business contacts but, by golly, wouldn't you know it, she had a couple of tickets left over for little old me.  Oh, providence.
It was my first trip to Nationals Park. Overall: it's a good place. Not a top-top kind of place, but quite nice.  I think it probably needs a few more years to be lived in and experience the maturation of the Nats as a winning team and the Nats fan base as a whole before a fair assessment can be made, but it's quite nice.  And even if it does skew a bit bland for now, that will change with time and history. And it's way better to be a tad bland now than to manufacture all kinds of phony history and character when it hasn't earned it. Random observations from a nice night of baseball:
It wasn't just me and commercial real estate people in the box. Because my friend had a couple of extra tickets, I invited our friend D.J. Short and his fiance Christine, who live in the D.C. area, to join us. I've worked with D.J. for over three years and this was the first time I'd met him in person. The Internet is weird. D.J. and Christine are not, however. They're pretty adorable actually. And D.J. is a pro: despite being a Mets fan and despite watching Johan Santana get let the hell up again, he didn't curse the gods or kick anything. See: he even was a good enough sport to smile for a pic: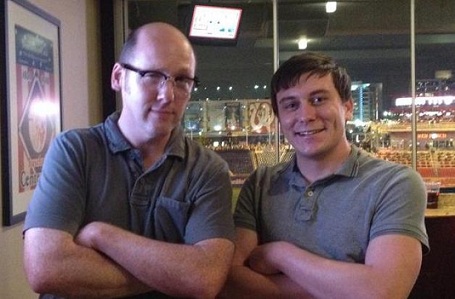 It was a pretty good crowd for the Nats, I'm told. Not a sellout, but it was the sort of crowd you could expect for most winning teams on a Friday night. And it's not like it was driven by some promotion or anything. The giveaway was Nats caps with a beer logo on it, so kids couldn't get them. The Nats are winning and the people are starting to show up. That's how it's supposed to work.
The park has big wide concourses and, from what I could tell from my stroll, a lot of food options. People talk about the Shake Shack a lot — and the line was crazy — but even the normal ballpark food looked varied and of high quality. I didn't get a good sampling of the beers, but I pregamed a bit in the bar above left field, and they had some microbrewish options and, oddly, Peroni on tap. Can't say I've ever seen Peroni on tap at a ballpark.
The crowd was into the game, but you could tell that it's still a growing and learning fan base. Almost every time a fly ball was hit, the "that could be a home run!" roar grew a bit until someone caught it in non-necessarily deep left, right or center field. On the plus side, though, the crowd did cheer loudly and naturally at key moments — like when Michael Morse came up in a bases loaded situation — without prompting from the scoreboard (though the scoreboard did prompt often, just after the cheering had already began).
About that Michael Morse bases-loaded situation: just as he came up to bat, the woman behind me — who is not really a big baseball fan — said "he's going to hit a grand slam here, I just know it." I, the baseball expert who has seen things in this game, said "well, I suppose it's possible, but I think it far more likely that he'll hit a single to the opposite field. Two runs will score."  Of course Morse hit a grand slam. The lesson, as always, is that I don't know what the hell I'm talking about.
Bryce Harper hit a homer. My inner fanboy cheered a lot, bro.
No one cares about this but media people, but I was shocked at just how high up in the stratosphere the press box is.  It's waaay higher there than it is at any other park I've been to.  If people ever think Nats broadcasters are missing anything, you can probably blame the fact that they're so high up that they have to rely on video more than anyone else.
My friend and I drove to the game, but we walked by the Metro station near the ballpark on our way in and out.  It's conveniently located and clearly, based on the development around the park, it's intended that now and forever the best way to get to games is to take Metro. That said, after the game was over, the crowd trying to get into the station was insane. Backed up all the way up the escalator and way out onto the sidewalk and the surrounding streets. Someone who uses it tell me: does Metro not run more trains than usual after games? Because that looked like a nightmare.
That's all I can think of at the moment.  Like I said, nice place. Obviously I'd get a good impression of it based on the fact that I sat in the luxury box, but it seemed like a good place to see a game even if you're a peasant –er, I mean, even if you sit in regular seats.