HardballTalk's Drew Silva is filing regular stories from this year's MLB All-Star festivities in KC. Part One. Part Two. Part Three. Part Four. Part Five.
When I picked up my press packet Saturday from the will call window next to Kauffman Stadium's Gate C, it included an invitation to something called the "2012 MLB All-Star Gala" — to be held in a nearby tent after the Home Run Derby late Monday night.
I presumed it was another event for sponsors to strut their stuff and give out free samples to fans. It wasn't.
*******************
Through the security gates and past a giant glass statue that looked like something off the set of a Superman movie, I entered the best party I've ever attended (well, since college). There were three stages — all featuring blues and jazz bands — and open bars at every turn. I ate candied bacon, expertly-prepared cowboy ribeye and slices of roasted duck while chatting with the industry people I recognized and meeting the ones I didn't.
Frank Thomas dished out hugs and drank aluminum Budweiser bottles, posing for pictures whenever asked. I discussed the Justin Upton trade rumors with Arizona Republic beat writer Nick Piecoro and the underrated D.C. nightlife with Adam Kilgore of the Washington Post. The tent didn't clear out until just after 1 a.m.
I received a gift as I left — a commemorative All-Star baseball resting atop a gold crown — and shook my head in disbelief on the long walk through the then-nearly-empty Kauffman and Arrowhead Stadium lots.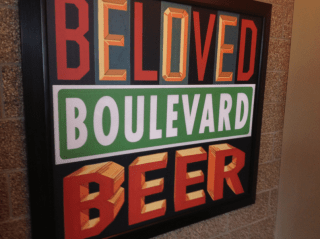 "Did you have a decent time?" asked an elderly man in a yellow security polo, directing what little was left of the Derby and Gala traffic. "Rarely had better," I responded, completely meaning every word of it.
*******************
Today I toured the Boulevard Brewery with ESPN's Amanda Rykoff, a must-follow on Twitter for any baseball fan. We got to try out a test brew called "Hoppy Wheat," which tasted even better than it probably sounds. Word is it's being released to the public via small shipments in about three weeks.
After the tour and subsequent sampling we hit up Danny Edward's BBQ on the reccomendation of our brewery guide. The burnt ends were melt-in-your-mouth terrific and the smoky baked beans contained chunks of pulled pork. I had never heard of the place and my cousin who has lived in this town for 24 years has never been, but it was as good as any barbecue joint I've tried on this trip. That's Kansas City for you. Go off the beaten path and you're still in pretty great shape.
*******************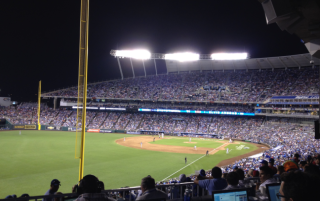 As I sit out in left field tonight watching the end of the All-Star Game, I can't help but feel reflective.
Between the first-time press box experience, the up-close-and-personal media day and the many beers and plates of world-class barbecue in between, this past week has been a spectacular whirlwind.
I fell deeply in love all over again with this supposed cowtown. I exchanged dialogue with some of my idols in the baseball-writing profession. I got an email from Chiefs general manager Scott Pioli, exclaiming that he was "LOVING" my work. And I was given the freedom to share it all in whatever way I saw fit.
"Bless my heart, bless my soul, didn't think I'd make it to 22 years old," belts Alabama Shakes lead singer Brittany Howard in a track called "Hold On" that I've been spinning with regularity since my trip first began in suburban St. Louis. I didn't have many well-thought-out goals as a kid. I could never envision myself as a grown up — with a job and a level of respect from peers — so I never tried to. Now I can't wait for what's next.