HardballTalk's Drew Silva is filing regular stories from this year's MLB All-Star festivities in Kansas City. Part One. Part Two. Part Three. Part Four.
The Royals haven't won a division title since 1985 and have finished with a winning record just three times since since 1992, which has translated into over 20 years of bad attendance totals at Kauffman Stadium. But the apathy here feels temporary.
Last night's Futures Game was a sellout — the first in the 15-year history of the event — and Kauffman remained packed for the Legends & Celebrity Softball Game that was played right after. Kansas head basketball coach Bill Self drew decibel-pushing reactions (boos from Mizzou fans and cheers from the Rock Chalk faithful) every time he stepped to the plate or was spotted on the massive HD video board that sits below the giant gold crown in center field. Chiefs quarterback Matt Cassel also caused a stir.
The MLB All-Star Charity 5K & Fun Run had more than 8,000 participants on Sunday morning, smashing the previous record. The public water spouts downtown in this City of Fountains have been dyed royal blue.
There's an excitement here for the All-Star Game and the publicity it might bring. Go anywhere in town and mention you're covering the events and you'll get a big grin and tips on where to eat and drink. Maybe that's just good ole fashioned Midwest generosity. Or maybe it's time for Royals owner David Glass — former president and CEO of Wal-Mart — to recognize that he's sitting on another potential gold mine.
*******************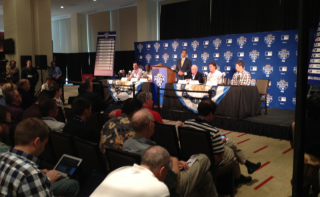 I headed up the interstate this morning at around 11:45 a.m. for All-Star media day — held inside the climate-controlled club suite level at Arrowhead Stadium. The first player I encountered was Marlins outfielder and noted tweeter Logan Morrison, who was being trailed by two cameramen and a sound guy as he peaked around different corners of the room. I believe they were filming scenes for the second season of Showtime's "The Franchise."
LoMo grabbed a Gatorade from a cooler next to where I was checking my phone and asked if I'd "seen George Brett around." I couldn't help but laugh. "Are you looking for him?" I uttered back, in a total stupor. My brain was too blown to process his response. It's not every day that a current major league star asks you if you've spotted a Hall of Famer. My guess is that exchange won't make it into an episode.
I grabbed an open chair by the back of the All-Star Game press conference, which was already underway, and listened in as National League skipper Tony La Russa finished up fielding questions about his decision to start San Francisco's Matt Cain over the Mets' R.A. Dickey. "I'm very aware of the first half (Dickey has) had," La Russa insisted. "The one edge that I thought would make sense is that we have Buster Posey catching and Matt was equally deserving. … We wanted to reward Cain for a great career of excellence. It's a tough call."
Cain is 27. Dickey is 37. And Tony is still Tony.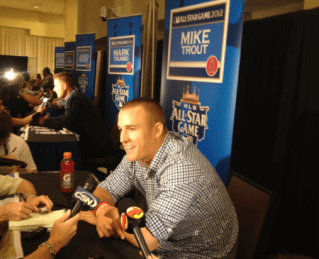 *******************
Next the American League and National League All-Stars were made available for interviews at individual podiums under lighting designed for television shots. I tried to capture everything in eye-and-earshot while pleading with my iPhone to hold its charge. Angels stud Mike Trout was as giddy as you'd expect a 20-year-old MVP candidate to be as he spoke about playing with Albert Pujols and learning from the slugger about proper work ethic. Anaheim lefty C.J. Wilson chatted about his passion for photography with a few photojournalists. Rangers starter Yu Darvish and Nationals phenom Bryce Harper were the biggest draws. Darvish seemed at home giving responses in Japanese to questions from a throng of Japanese reporters. Harper wore Converse All-Stars and spoke softly, trying to play it cool while fighting back obvious feelings of authentic teenage excitement.
"If you had to go out on the town with one of your fellow All-Stars," an attractive blonde in a colorful dress asked Cardinals third baseman David Freese at a certain point, "which of the players would you choose?"
"Chipper (Jones)," Freese, the National League's Final Vote winner responded. "Just look at the guy."
*******************
Now I sit in the left-field auxiliary press box, built on a concourse not far from the new Royals Hall of Fame, taking in the Home Run Derby. It's not even halfway through the first round and it's already dragging, but there is a steady breeze blowing out to right and Kauffman has great energy. There's simply no place I'd rather be.