HardballTalk's Drew Silva is filing regular reports from this year's MLB All-Star festivities in Kansas City, Missouri. Part One. Part Two. Part Three. 
Kelly's Westport Inn is a wooden-floored Irish-style pub occupying the oldest standing structure in KC. Completed in 1850 — when the population of the United States was less than 25 million — the building has served as a trading post, a hardware store, a drug store, a hotel and a hiding place along the Underground Railroad (well, that part's just a rumor). Last night, it housed an impromptu get-together for a pack of thirsty baseball media types.
I drank Boulevard Single-Wide IPAs and shots of Jim Beam and I stood with jaw agape when ESPN anchor Steve Berthiaume not only recognized my name but said he "really enjoyed" my writing. I chatted about minor leaguers and music with Jason Parks and Kevin Goldstein of Baseball Prospectus. I met Matt Meyers, the editor of the MLB page on ESPN.com. I was explained lifelong frustration by local Royals podcasters.
The experience might have been overwhelming, but I'd been slugging bourbon and last call arrived quickly.
*******************
"Wouldn't it be nice if we were older, then we wouldn't have to wait so long." I couldn't get that lyric out of my head as I watched baseball's best prospects crush souvenirs into the seats before today's Futures Game.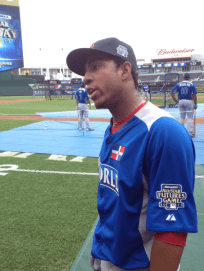 "You have to see batting practice," Meyers had told me over beers the night before at Kelly's. The kids aren't jaded yet by the major-league environment and they're not used to warming up for a game surrounded by so much media, so they try to put on a show in the half-cage and then offer long, thoughtful answers afterward in on-field interviews.
Cardinals outfield prospect Oscar Taveras — referred to by a scout recently as the best offensive talent in the minors — spoke to Derrick Goold of the St. Louis Post-Dispatch for a couple of minutes as I stood by, watching two pros at work. Taveras, 20, is batting .322 with a .968 OPS, 17 homers, 25 doubles and 63 RBI in 79 games this season at Double-A Springfield. Goold is the best beat writer in the country.
I introduced myself to ESPN's Keith Law, who called HardballTalk a "great, great blog" and referred to our editor playfully as "Grumpy Craig." He spoke with enthusiasm about the starting pitchers on Team USA and indulged my followup questions. We talked about the legendary sauce at Gates — which I basically bathed in last night at dinner — and about the inconvenient hours at a barbecue shack named LC's, which is the best place to get burnt ends if all the Kansas City natives I've spoken to on this trip are to be believed.
*******************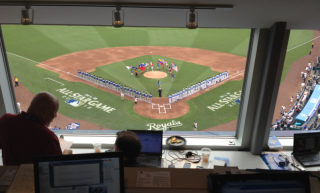 The Futures Game was a slugfest, paced by the American bats. Tigers prospect Nick Castellanos went 3-for-4 with a homer and three runs scored. Fleet-footed infielder Billy Hamilton — property of the Reds — zoomed around the bases in the third inning for an RBI triple. Astros youngster Jonathan Singleton, who is built like an outside linebacker, finished the day 3-for-4. The Royals' own Wil Myers collected three RBI with a run-scoring groundout, a sacrifice fly and a seventh-inning single. Everything he did drew a loud ovation from the hopeful sellout crowd at Kauffman Stadium. He'll be back here for good by mid-September.
I took it all in from the press box while cracking salted peanuts and getting to know industry veterans.
*******************
Next up is the Legends & Celebrity Softball Game, featuring "Mad Men" star Jon Hamm, Kansas basketball coach Bill Self, Chiefs quarterback Matt Cassel, nearly-undefeated UFC figther Jon "Bones" Jones and former major league players like George Brett, Bo Jackson, Ozzie Smith and Joe Carter. I'll stay for a few innings to scout Don Draper's swing before heading back downtown to check on the city's supply of Boulevard Wheat.