It's about a four-hour drive from my house in St. Louis to Missouri's western border with Kansas, where the coolest town in the United States sits with quiet confidence. I made the trip last night, cruising freely along a trafficless stretch of Highway 70 and arriving a little after 9 p.m. with a duffel bag, a laptop and a press credential to the 2012 All-Star Game and the five days of festivities that surround it.
From now until Wednesday morning I'll be your official Kansas City correspondent, filing regular reports from barbecue joints, watering holes, back porches and the Royals' Kauffman Stadium as Major League Baseball puts on its annual Midsummer Classic in a place I consider a second home. There will be pomp. There will be exhibition baseball. There will be stained dress shirts and Boulevard Wheat.
*******************
To loosely butcher one of the Counting Crows' truly decent songs — yeah, they've written a few — there's something about Kansas City that just kills me. I love its care-free, hard-working, fun-loving people. I love its neighborhoods, where no two homes look alike and oak trees are encouraged to grow over the streets. And I love that its most celebrated local traditions — jazz, the blues and barbecue — are uniquely American.
Writing these posts won't feel like work. It'll feel like treasure-hunting in a familiar place, then sharing the booty with the readership here on HBT.
*******************
I was raised in a fashion common for a St. Louis suburbanite — Catholic grade school, Catholic high school, then on to a Catholic college. My summers were spent attending different forms of regimented camp, playing catcher in sweltering, error-filled baseball games and trying to shoulder-tap for Natural Light 18-packs on the weekends. Which made me appreciate my twice-yearly visits to Kansas City (for Thanksgiving at my Uncle Chuck and Aunt Mardi's and a Memorial Day festival called The Pig Roast) more than I might have otherwise. Anything cool I did as a teenager, I did in western Missouri with my cousins Jake, Monica and Joe-Joe.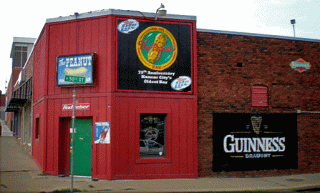 Thanksgiving in Kansas City taught me about venison and made-from-scratch stuffing and living off the land. The Pig Roast introduced me to bluegrass, beer kegs and bonfires, and opened my eyes to the vast difference between "grilled" meat and authentic BBQ. I got to shoot hunting rifles and I got to ride ATVs. And it wasn't bedtime until I was tired.
My cousin Jake is 24 years old, just a few months younger than I. He grew up playing the guitar and the fiddle. He fishes commercially for catfish in the summer and he kills deer with a bow in the winter.
During a family trip to Cape Cod when we were both 11, Jake swam from the shore to a private sail boat deep in the bay because I questioned whether it could be done. We drank Boulevard Wheat drafts and ate a plate of the world's best hot wings last night at The Peanut on 50th and Main — the kind of bar that makes you feel stupid for living, eating or drinking anyplace else.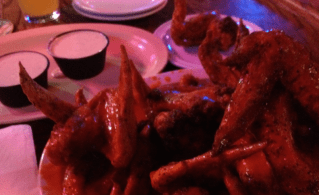 The first time I tried the wings at The Peanut, I had a minor coughing fit. Primarily from the cracked black pepper in the sauce but also in utter astonishment at the taste of things. They're massive and meaty, and come with a side of house bleu cheese that is made from simple, fresh ingredients — not choked out of some plastic salad dressing bottle. That's what the KC that I know is all about. Don't take shortcuts. Do things well or don't do them at all.
*******************
MLB's schedule of All-Star-related events begins today with the opening of FanFest at the Kansas City Convention Center. I'll hit that up tomorrow morning. Sunday is the Futures Game and Legends & Celebrity Softball Game. Monday is the Home Run Derby and on Tuesday night at 7:30 p.m. ET is the main event.
I'll be there for all of it while exploring the charms of this city in between. These are my dispatches from KC.
*******************
Check out Part Two, Part Three, Part Four, Part Five and Part Six of this series.