With runners on first and second and one out in the third inning in the game against the Marlins on Tuesday, Brewers third baseman Aramis Ramirez hit a deep fly to center that got over the head of Justin Ruggiano. It led to this scene.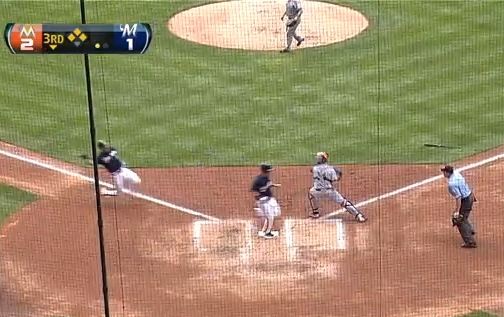 What happened was that Norichika Aoki, who was on second, got deked by Ruggiano on the play. Ryan Braun, the trail runner, knew all along that it was going over Ruggiano's head, but Aoki got held up between second and third initially.
The end result was the Brewers scoring a pair of runs in somewhere between three-tenths and four-tenths of a second. Marlins catcher John Buck almost had a play on Braun, but he was a little late with his dive to home plate.
You can watch the video at MLB.com.