Lost in the Matt Cain perfect game drama last night was the fact that R.A. Dickey nearly threw a no-hitter of his own. The only blemish: a first inning infield single by B.J. Upton. It was a slow-rolling grounder that Wright tried to barehand and couldn't.  The Mets, however, are trying to get that single changed to an error via an appeal of the scoring decision.
This seems doomed to failure.  Click the pic to watch the play: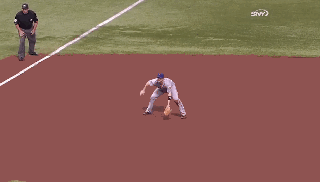 I think that's called a hit almost every single time.
This is not unprecedented, by the way. Reader Jess Lemont reminds me that in 2008, the Brewers appealed a scorer's decision to give Pirates third baseman Andy LaRoche a hit in a CC Sabathia one-hitter. There, as here, the call came when the fielder — who was actually Sabathia —  failed to pick up a ball on a barehand attempt.  Here was the text of the ruling from MLB:
"The committee held an extensive and constructive decision after viewing footage of the play in question and considered the documentation presented by the Brewers. It was the collective decision of the committee that the judgment of the scorer was not 'clearly erroneous,' which is the standard set forth in Official Scoring Rule 10.01(a), and thus did not meet the criteria for League reversal of the call made by Official Scorer Bob Webb."
"Clearly erroneous" is a high standard to meet and there is no way that the call on Wright's play was that. It's often called a hit. Most of the time, I'd guess, with the scorer's reasoning presumably being that if the fielder had to go with a barehand play in order to make it, it was damn close to begin with.
So it's great that the Mets are sticking up for their guy, but in this case I don't think it's going to be successful.
Oh, and a final note: I don't think some of the "oh isn't it rich that the Mets are doing this given the bad call that gave Johan Santana his no-no" comments I've seen on Twitter since last night are particularly on point. There's a difference in my view between a judgment call by a scorer and a missed call by an ump. Scorer's decisions do get overturned quite often and, to be honest, are more often wrong than the umps on the field are.
The upshot: the Mets aren't hypocrites for doing this. They're just not going to be successful.