Most no-hitters or perfect games have that one moment when you just know, yep, it's happening. I'd guess that those who saw Matt Cain's perfecto live last night will point to Gregor Blanco's catch of Jordan Schafer's drive in the seventh inning as that moment: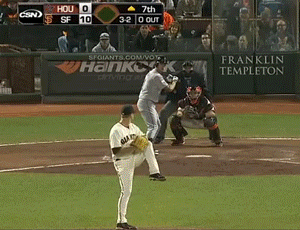 The GIF comes via Grant Brisbee at McCovey Chronicles, who has cataloged 50 awesome things about the Cain no-no.  You can watch the play with the broadcaster's call here. Go to the 1:20 mark or so to hear the Spanish language broadcast. I don't know exactly what he's saying, but he uses the word "Superman!" which I think is totally apt here.  Right center in AT&T Park is gigantor, and Blanco just tracked that baby down and then flew to it.
The same Blanco who was a minor league invite in the offseason and was competing for the 25th-man-on-the-roster gig.  I think he earned it.