Maybe I'm reading too much into this, but I sorta think I'm not.  Check out the graphic from MLB.com's draft page. Pay specific attention to the Indians' avatar: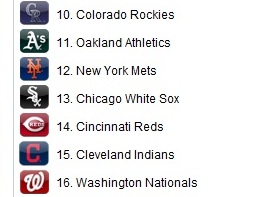 Block C. When Wahoo is, as far as I know, still the team's primary logo (The MLB Store calls Wahoo the "primary logo" anyway). None of the other teams have secondary logos as their avatar. It's not like Wahoo wouldn't fit, either. No, someone had to make the conscious decision to go with Block C and to do it for aesthetic reasons.
While it could simply be the work of a low-level web page designer with a conscience, I'm inclined to chalk this up to what I have chosen to believe is a subtle-as-all-hell, long-term move away from Chief Wahoo by the organization, designed to accomplish the bannination of his racist visage without ever triggering some sort of "you guys are a bunch of P.C. pansies" backlash.
My inclination may be delusional, of course. But if I'm not being delusional: bravo, Indians and MLB. And good luck with the stealth campaign, even if I am undermining it by mentioning it all the damn time.
(thanks to Dan Lewis for the heads up. Also: sign up for Dan's Now I Know newsletter. It's the best thing you'll get in your inbox every morning)