Barry Bonds lawyers filed a 60-page brief yesterday, appealing his obstruction of justice conviction.  The heart of it is basically something we've noted here all along: that it's pretty weird to convict someone for not answering a question when they actually, you know, answered the question:
"Any competent English speaker would understand Mr. Bonds's initial statement as answering the question in the negative," Riordan wrote. "Mr. Bonds was no more guilty of obstruction than he would have been if, having answered one prosecutorial question, he chatted with grand jurors about the weather while the prosecutor was formulating his next one."

Riordan further argued that the prosecutors questioning Bonds before the grand jury had a "legal obligation to clarify unresponsive testimony." Riordan contends the prosecutors should have repeated the question until Bonds answered directly.
And he's absolutely right about that duty-of-prosecutors to clarify thing by the way.  But even if he isn't, it's worth noting that Bonds did actually answer the question that the prosecutors and the jury somehow concluded (at least temporarily) that he did not answer: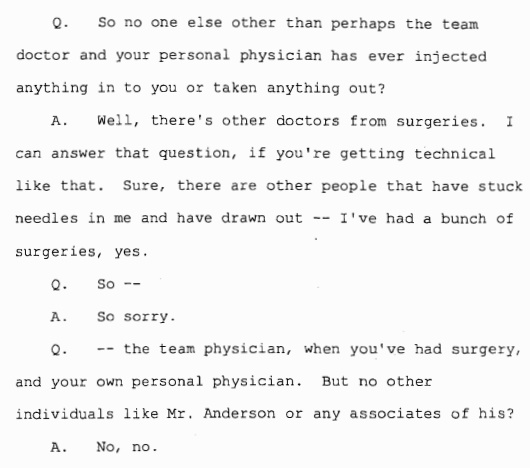 That "no" at the end responds to the very question the indictment against Bonds and the subsequent conviction says he didn't answer.  I tend to think it was a lie, but the jury didn't, so that's neither here nor there.
But hey, details. Bonds was a dirty cheater, so we should not expect the evidence in a criminal proceeding against him to matter any.