I predicted this yesterday, but I awake this morning to find two outlets — the New York Daily News and Yahoo! — each going with completely inaccurate takes on the Andy Pettitte testimony today.  First the Daily News: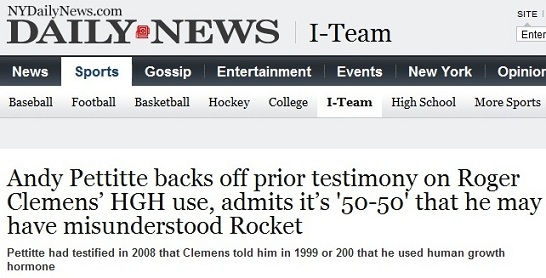 He neither backpedaled on nor backed off his prior testimony.  He was entirely consistent.  The Daily News attempts to argue that his testimony differed from an affidavit he offered regarding the 1999 conversation, but that affidavit was not inconsistent with the testimony. It merely left out — for strategic reasons — the part in which Pettitte said in 2008 just as he says now that he thought he misheard Clemens in 1999.
Les Carpenter's piece in Yahoo! is way worse.  He is all but saying that Pettitte perjured himself in order to help his friend, Roger Clemens.
He says "Prosecutors did not expect Pettitte to say the very thing Clemens has maintained all along, that he "misremembers" the earlier conversation," when in fact they had every reason to expect it given that Pettitte testified to that exact effect four years ago.  He says that Petttitte "suddenly" had doubts about the 1999 conversation, when there was nothing sudden about it. He calls Pettitte's testimony "a life preserver," implying that it was unexpected help to Clemens when, in reality, it was merely Pettitte being consistent with prior testimony and the help to Clemens was the unexpected benefit.
Worse, Carpenter basically accuses Pettitte being some weak-willed slug, changing his story because Clemens was glaring at him:
But how much does Pettitte know? It's hard to imagine his memory has turned hazy, yet Clemens is a hard man to defy. Even in court, intensity radiates from him. Clemens' eyes never left Pettitte as his old friend sat on the stand. Pettitte could not return the gaze.
This is a disgrace on Carpenter's part. He's essentially calling Pettitte a liar and later chalks it all up to Pettitte desperately wanting to help his friend.
And maybe Pettitte has always wanted to help Clemens if he could.  But there's a big difference between saying that and saying that he changed his sworn testimony in order to do it.  He clearly did not, and saying that he did is not just a matter of offering a strong opinion about what may be in Andy Pettitte's heart. It is a clear misrepresentation of legal fact and anyone who maintains it in print should be required to print a retraction.
Thanks to Tamar Chalket at IIATMS for pointing them out. And for a good take at just how frustrating and common it is for the media to totally whiff on what's going on in legal proceedings.