You often see an umpire call the runner out even though the first baseman steps away from the bag a bit after fielding the throw. Or especially on plays at second base where a middle infielder's good faith effort to prevent having his legs broken results in an "out" call even if he doesn't touch the bag at exactly the same moment he has the ball.
It's called the "neighborhood play" and it's not something that people normally get too bent out of shape about.  But one just happened in the Dodgers-Rockies game that deserves people getting bent out of shape about.
Tell me: what "neighborhood" was Todd Helton in here when Jerry Hairston was called out by first base umpire Tim Welke?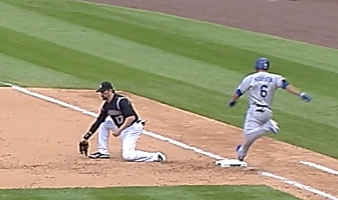 I don't expect anyone from MLB to comment. But man, really?  You tellin' me that a fifth umpire in the booth couldn't have and shouldn't have fixed this in about ten seconds?
But hey, Human Element, man.