We'll provide updates throughout the night as baseball's top prospect, 19-year-old outfielder Bryce Harper, makes his MLB debut against the Dodgers. Here's the lineup, via Adam Kilgore of the Washington Post:
As promised, Harper bats 7th: Desmond, ss; Lombardozzi, 3b Werth, rf LaRoche, 1b; Ankiel, cf Espinosa, 2b; Harper, lf Ramos, c Strasburg

— Adam Kilgore (@AdamKilgoreWP) April 28, 2012
First pitch is scheduled for 9:10 p.m. ET. Washington's Stephen Strasburg is facing LA's Chad Billingsley.
******************
6:58 PM: From Dylan Hernandez of the Los Angeles Times comes this shot of Harper speaking to the media at Dodger Stadium before pregame batting practice. "I'm not actually that nervous," he told reporters.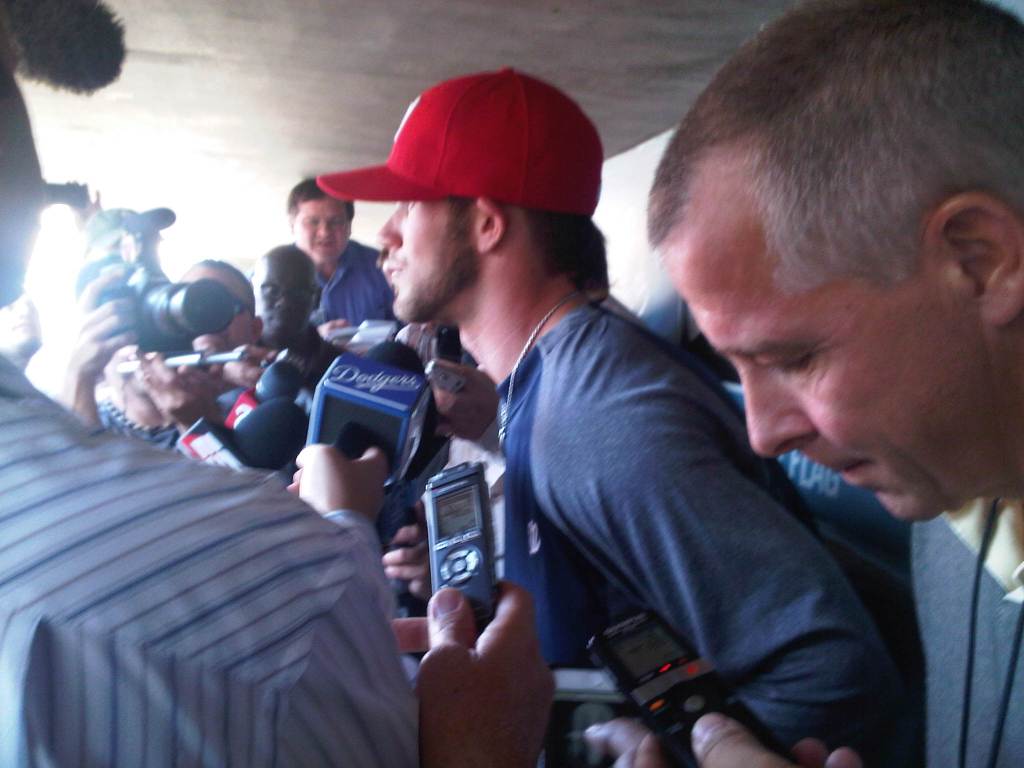 ******************
7:03 PM: CBS Sports' Scott Miller says Harper's mom, dad, sister and brother-in-law will be in attendance.
******************
7:47 PM: It should come as no surprise that Harper, who once smashed a 502-foot dinger during a high school home run derby contest, absolutely demolishes pitches in batting practice. Via Kilgore:
Bryce Harper is putting on a laser show at BP. He hit three in six swings halfway up the bleachers. Bombs.

— Adam Kilgore (@AdamKilgoreWP) April 28, 2012
******************
9:15 PM: We're underway. CSNWashington.com's Mark Zuckerman brings the all-important uniform update:
Harper, by the way, is rocking the old-school stirrups with short pants.

— Mark Zuckerman (@MarkZuckerman) April 29, 2012
******************
9:31 PM: Harper walks to the plate to heavy boos from the Dodger Stadium crowd, takes three pitches (two balls, one strike), then grounds out on a chopper to Billingsley. It's 0-0 in the second inning.
******************
9:35 PM: Hernandez snapped this photo of Harper's first at-bat from the Dodger Stadium press box: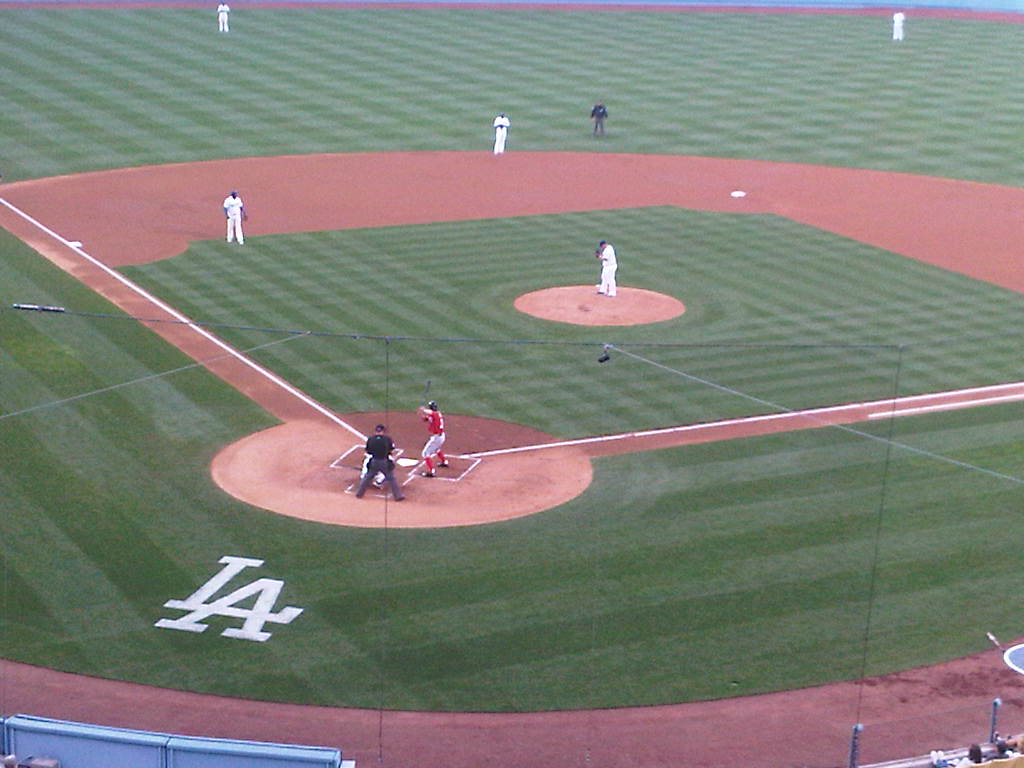 ******************
9:59 PM: Harper just barely avoided a full-speed collision with Nationals shortstop Ian Desmond on a bloop single by Dodgers outfielder Tony Gwynn Jr. in the third inning. The ball fell in between the two Nats.
******************
10:20 PM: Harper flew out softly to left field in his second trip to the plate after working another 2-1 count.
******************
10:54 PM: Harper blasted a double to the base of the center field wall in his third at-bat, after working a 3-2 count. He threw his helmet off heading into second base, showing off a sort of hybrid mohawk.
******************
11:13 PM: Harper threw a bullet to home plate in the bottom of the seventh inning, nearly nabbing Dodgers infielder Jerry Hairston Jr. as he tried to score from second base on a ball slapped into left field. But Wilson Ramos dropped the ball while applying the tag. The game is tied at 1-1 as we move to the top of the eighth.
******************
11:54 PM: Harper drove in the go-ahead run with a sacrifice fly to left field in the top of the ninth inning. Ramos then added an RBI single, giving the Nationals a late 3-1 lead over Los Angeles.
******************
12:09 AM: A fan ran onto the field in the bottom of the ninth inning, interrupting play. Both television broadcasts avoided showing him for obvious reasons, but Kilgore passes along a mini recap:
Fan on the field,running at Harper, who stood still, before a dozen men in black crunched him.

— Adam Kilgore (@AdamKilgoreWP) April 29, 2012
******************
12:18 AM: Nationals setup man Henry Rodriguez surrendered two runs on three hits while recording only two outs in the bottom of the ninth inning. The Dodgers tied it 3-3 and we're heading to extras.
******************
12:37 AM: Dodgers slugger Matt Kemp hit a walkoff home run over the center field fence to win it in the bottom of the 10th inning. Harper finished 1-for-3 with an RBI. A fantastic night of baseball all around.