Was tuned in to the Fenway Park 100th celebration going on right now.  This was the scene, as scores of former Red Sox players, in uniform, made their way out to the field from the big garage door in center, each of the players taking their customary position on the Fenway Park field.  Very cool: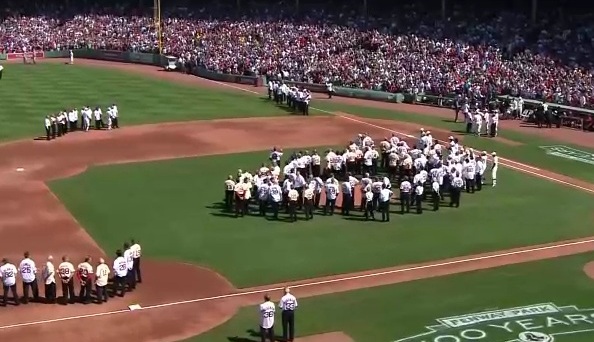 The best moment: Johnny Pesky and Bobby Doerr's entrance. They're in wheelchairs and where pushed out to second base by Tim Wakefield and Jason Varitek. You don't have to be a Red Sox fan to get a little misty at that.
Sadly, MLB.com's feed of it had no crowd noise at all, the proceedings being drowned out by John Williams music. It felt like I was watching a pre-taped cinematic moment, not a live event.  Poor form, MLB.com.
But maybe the most notable thing — which people there in person tweeted to me and which made me wonder if perhaps it was the reason MLB.com tuned out the crowd noise — was when Terry Francona entered the field.  The crowd gave him the biggest ovation of the day and began chanting "TITO, TITO, TITO!"  So, yeah.
Happy 100th, Fenway Park.