According to Buster Olney, Major League Baseball is now "reviewing the Ozzie Guillen situation."  Hurm.
While I disagree with it all, I at least understand where the local outrage in Miami is coming from. While I would hope that it all blows over, I get that whatever happens it will be the local dynamics — put in motion by the community, the local politicians and the Miami Marlins brass — that are going to determine how it all plays out.
But MLB's official involvement is another thing altogether and should be viewed even more skeptically in this instance. No, not because it has no business in policing players' and managers' speech — it has done that in the past, most notably in the John Rocker case — but because it doesn't have a leg to stand on when it comes to being outraged at pro-Castro sentiment.
Remember when Peter Angelos did this?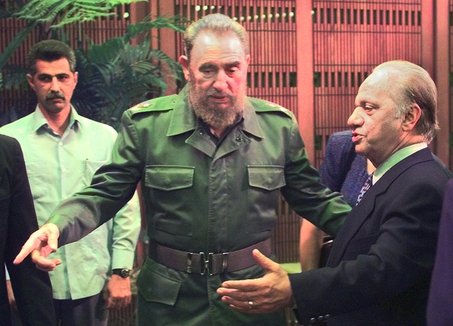 That was from back in 1999, when the Orioles went down to Havana and played the Cuban national team in an exhibition. A move which did far more to bolster and support Fidel Castro than anything Ozzie Guillen said. This is especially true when, later, Angelos went on record saying that he would never sign a Cuban refugee ballplayer. Rather than simply admire Castro's ability to not be assassinated, Angelos took it upon himself to enforce a key part of Fidel Castro's policy and propaganda apparatus on our very shores.
At the time — and to this day, I presume — the Cuban-American community was outraged at Angelos and MLB for making this trip. The "I won't sign Cuban ballpayers" thing led to even more anger.  Yet Major League Baseball didn't feel the need to "review the Peter Angelos situation."  MLB was part of it.
All of which shows quite clearly that, to MLB, this is about public relations and damage control, not about the substance of what Ozzie Guillen said or the anger felt by people in Miami. If Guillen's comments — or worse comments by anyone — were ignored, the league wouldn't care.  If this continues to be a big deal, the league will throw Guillen aside with a quickness.
In response to which many would say "hey, MLB has to protect its brand."  And in response to which I would say, hey, I wish our institutions — and I consider Major League Baseball an institution — actually stood for someone other than its bottom line an public image on occasion.