I was bored last night, so I asked for Twitter questions. As usual, you obliged. A pretty healthy Batman content too, so it's almost like we're in midseason form already. And I mentioned New Jack Swing when I sent out my call for questions, so there's obviously some Bell Biv Devoe content. Which is how it should be.
Very little baseball, though. You all must be as sick of spring training as I am and just want real games to start. Oh well.
Let's do this:
Q: Odds on Tim Tebow becoming a 2-sport star for the Jets and Yankees? What position would he play?
Hahaha, don't be silly. The Yankees aren't in the business of signing people who are demonstrably unable to help their team. Only the Jets do that.
Q: Kate Upton or Blake Lively?
I presume this is being asked because my divorce became final on Tuesday and you all want the best for me. But look dudes: while I can appreciate the charms of these young ladies, I'm gonna be 39 this year. Upton was born while I was on break between my freshman and sophomore years in college. Lively is a bit older, but she doesn't even pass that "half your age plus seven" test for whether the person is age-appropriate for you.  I may be newly single, but that doesn't mean I have any desire to look foolish. Besides: I'd probably have a heart attack or something.
Q: Tie Alli gave you: Best tie ever, or Best. Tie. Ever. Or BEST. TIE. EVER. I'll hang up so you can answer.
Oh, another reason I couldn't do anything with Upton or Lively. The "Alli" referred to here is my girlfriend, and the person asking this question knows her. And yes, she bought me a tie. I wore it on SportsTalk the other night. It's a pretty sweet tie. I presume that she'd use it to strangle me in the event I was found with Kate Upton or Blake Lively.
Q: Did the Braves do anything this winter?
They had a spectacular winter of filling out line 136(b) of Liberty Media's budget projections. Feel the excitement!
Q: Which players from other sports (ignore those with actual baseball pasts) would be the best baseball players?
Gosh. No idea, mostly because I don't watch most other sports. Let's throw this one out to you all. Maybe we'll make a post out of it.
Q: The most surprising team to finish over .500 in 2012 will be ___.
Um, the Royals? Maybe that's not too surprising. They're a fashionable pick. Maybe the surprising part is that it won't be a ton over .500. I think they're improving, but I also think they're a year away from challenging. And that was the case even before their injuries.
Q: Do you look like Andrelton Simmons in a uniform? Should we start referring to Simmons as the Brock Landers of shortstops?
For those unfamiliar, this is Andrelton Simmons — currently battling for the Braves' starting shortstop job —  in a uniform: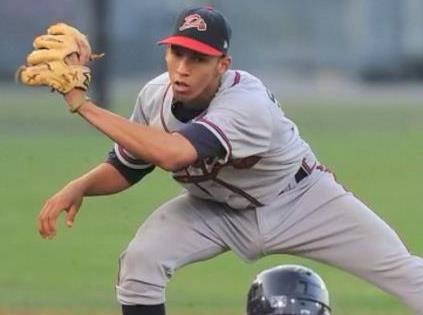 And for as much as it pains me to say so, no, I don't look like that in a uniform. because I don't own a Danville Braves cap.  In other news, if this baseball thing doesn't work out for Simmons, he probably has a future in other fields.
Q: Bell Biv Devoe: New Jack Swing pioneers or "New Look" era Batman B-plot character?
Don't hate on BBD. Oh wait, you can hate a little. But screw you, I loved 'em back in the day.
Q: Which is the better song by Bel Biv Devoe, "Poison" or "Do Me"?
I'm sorry, the answer is "She's Dope!"
Q: Even though season starts first full weekend in April, it feels like it starts late. Know what I mean?
I do know what you mean. This has been a long spring. I get excited for the first week of games and then after that, blah, just don't get hurt anyone and please make the regular season come faster.
Q: Choose 1 of each: Mo Vaughn or Greg Vaughn; Chili Davis or Eric Davis; Albert Belle or Jay Bell; Derrek Lee or Carlos Lee.
Hmm: Mo, Eric, Albert and Derrek. But really, you're limited me here. How about Arky, Mike, Buddy and Travis?
Q: Who is the best Robin?
Dick Grayson, obvs. But he's way better as Nightwing. And if I'm in the right mood, I might say the best Robin was Jason Todd. He sucked, but he's the Robin that died, and that led to a lot of big-time Batman guilt and angst. I kind of like my Batman angsty.
Q:  Is your last name pronounced cal-sa-terra or cal-ka-terra? I feel like this is something I need to know.
It's the latter. But I'll know who you're talking to if you use the former.
Q: Do you think we'll see a female major league umpire in the next 30 years?
Sure. Why not? And I can't wait. Partially because the march of equality is always great to see. Partially because I know some dumb columnist won't be able to help themselves and will write something totally dumb about it. I kind of live for that stuff.
Q: What bourbon would you recommend to someone who likes an Islay Scotch?
Eh, there's really nothing quite like that. But if you want something bolder and stronger and spicier than your normal vanilla-caramel bourbon, I've been getting into some Texas bourbons recently, and they're a different kettle of fish altogether.  Ranger Creek is a good one. Garrison Brothers is another. Not easy to find outside of Texas, but great stuff.
Q: How was Parkersburg, you know, as you remember it?
That's Parkersburg, West Virginia. I lived there from 1985-1988.  It was pretty neat for a kid my age. I lived in two parts of it, actually. For two years I lived just out of town on the south side, which was more like suburbia in a lot of ways. I lived one year in-town, however, and that was neat. City blocks, city buses, walking to school, walking to the library and the movies and stores and stuff, baseball games in vacant lots and all of that. For a small river city, it was probably the most "urban" experience I had growing up. Strange, but cool.
Q: "'Didja'ever take and try to give an iron clad leave to yourself from a three-rail billiard shot?"  Are certain words creeping into your conversation? … words like 'swell'…'and so's yer old man!'?"
Speaking or river cities, we got trouble … right here!
Q: Couples that sit on the same side of the booth: annoying, right?
Maybe the worst thing in the world. I am really, really irrational about this. I hate it like cancer.
Q: Who will be worse in 2015: Houston or Baltimore?
Baltimore. I want to give Dan Duquette a chance, but he's got an unreasonable owner who I fear won't let him make the kind of changes that organization needs right now. Houston is worse now, but at least they have an ownership and management team in place that seems to know what it's doing.
Q: What is your take on Aquaman?
Q: Who do you expect to finish 2nd to Fredi in the 2012 NL Manager of the Year vote?
I was gonna mock this question, but given this morning's news about Chipper Jones, I have decided that Jones will win the triple crown in his final year and the Braves will win 103 games, with Fredi actually winning the damn thing. He'll still suck, but he'll get the hardware.
Q: When you were a business traveler were you a go out and see the sights guy or stay by the hotel guy?
I always wanted to be a see-the-sights guy, but my business trips were almost always terrible. I had a week-long trial in Great Falls, Montana. In January. I spent three days in Peoria once. I was constantly going to places like Birmingham, Alabama, Indianapolis, and Wilkes-Barre, Pennsylvania. So no, I didn't see the sights much. Or I saw them all. Little difference.
Q: Can I have some money?
Sure. Can you throw left-handed?
Q: If you could be any superhero other than Batman, who would you be?
The second Night Owl. He had all of the Batman toys, minus the angst, but with the added bonus of hooking up regular with Silk Spectre. Not a bad tradeoff.
Q: What's your favorite esoteric fact?
I have lots of them, but Abraham Lincoln creating the Secret Service on the day he was shot is fun.
Q: Iron Shiek vs. Jose Canseco. Who ya got?
Depends: for Twitter entertainment or in a fight? Because you can't beat the camel clutch in a fight. Well, you probably could. It's one of the lamest finishing moves ever, even if it did give the Shiek the WWF title over Bob Backlund back in the day.
Q: Which happens first for Ron Gardenhire: heart attack arguing with an Umpire or Retirement?
Neither. I'm going with  "murdered by Aaron Gleeman."
Q: What TV series is next for treadmill time?
I'm just about done with the first five seasons of "30 Rock," so I will need something new soon. I'm thinking "Parks and Rec."  No, I never watched it. I come to everything late. Though if "Dexter" is still on Netflix, I've heard good things.  Anyone who actually knows crap about TV can feel free to give me better recommendations. Must be on Netflix Instant, though.
Q: Would Bruce Wayne ever represent himself pro se?
Only a fool would represent themselves pro se.  In other news, I handled my divorce pro se.  I don't see any connection here at all.
That's it, folks. Thanks as always for the questions.