Last Sunday, as you may recall, I had a small discussion about the nature of Batman and Superman with Brian Wilson of the San Francisco Giants. The conversation began as Wilson and teammate Tim Lincecum had a debate about whether the Caped Crusader would beat the Man of Steel in a fight.
Well, of course he would, but that's neither here nor there. What is here is that a reader — Justin Crisostomo — took it upon himself to sketch a picture of Batman (portrayed by Linceum) and Superman (portrayed by Wilson) having a debate.  Justin tweeted it and I tweeted it around and it was all great fun.
Today I went out to the mailbox and this was there: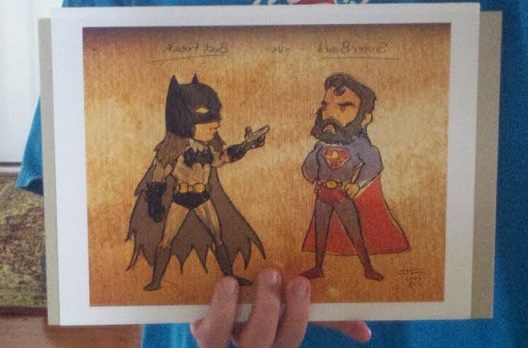 You can't read the caption because I took the pic in a mirror, but it says "SuperBeard" over Wilson and "Bat Freak" over Lincecum.
Given that Lincecum may be my favorite active player and given that Batman is my favorite everything, this is instantly one of my most prized possessions.
Thanks, Justin.  Consider my day made.
Also: if you want your day made too, Justin is selling prints of this.