With all apologies to Will Leitch, the below photo, from his GQ interview of Bryce Harper — which the good people of GQ gave us permission to run — may be the best part of the interview: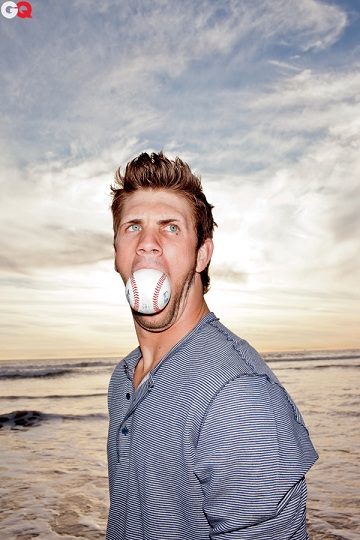 To reiterate, my thing on Bryce Harper: he's young and brash and says stuff I'd never say. But that doesn't matter. He's 19 and I'm 38. And even if I choose to carry myself like an old man because it suits me, if ever comes the day when young stud athletes who are ridiculously confident in their abilities cause me to grouse negatively about them for that reason alone, I'm just gonna give up.  He's fun. I want him to be big and loud and crazy because that's what youth is all about.
That said, I can't imagine that there won't be a day at some point when he really wishes he didn't let the photographer put the baseball in his mouth.  Like maybe today. Because if I was on the Nats, I'd be plastering that thing all over the clubhouse today with an impromptu caption contest.