Yesterday Adam Rubin of ESPN New York made a series of tweets regarding that flap from 2010 about Carlos Beltran not visiting Walter Reed Hospital.
You remember it: Beltran didn't go, he had permission not to due to other charitable obligations, the team said it was OK, but then stories came out about how mad the team was at him and how selfish and awful he was.
Yesterday, Rubin defended the media's role in all of that thusly (read from the bottom up):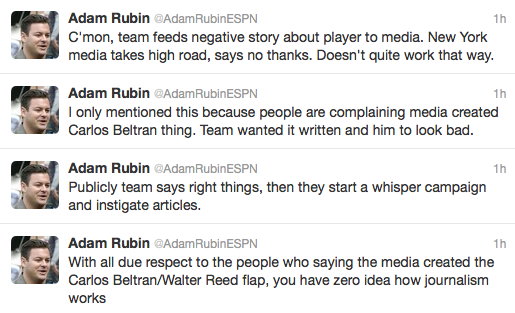 When I saw it I was astounded. Astounded that Rubin seems to be saying that it's inevitable that team smear campaigns are going to be parroted by a credulous or complicit press.  My view yesterday was that it doesn't have to be that way. That, rather than oblige the smears by reporting them at face value, you offer context or criticism or, at the very least, identify them as the smears they are. Tell the full story rather than serve as a conduit for team sources.
Today there is a much richer take on all of this from Matthew Callan at Amazin' Avenue. After making a similar observation I made, Callan notes how access to teams and clubhouses and stuff is part of the problem here:
The only reason I can come up with as to why this story was put out there unquestioned is because it came straight from ownership. So failing to report the "story" could not only mean getting scooped, but losing access as well. I understand that in journalism access trumps all, but what good is access if all it buys you is closer proximity to lies, half-truths, and axe-grinding? And what is a reporter's job if not to question the "official" story? In the case of the Walter Reed incident, there was precious little reporting and a whole lot of dictation.
Journalists will tell you that there is nothing more important in the reporter's craft than his objectivity, and I presume that their response to what Callan writes will be to say that calling out the Mets' ownership's official line in the story would somehow not be objective because, hey, what they said is what they said and when we reported that, it was totally true.
Seems to me, however, that such objectivity can — as it did in this case — mislead readers as to what is actually going on.  And that is way worse in my mind than reporting news with some critical skepticism towards the source of that news.