I mentioned earlier that I'm in an impossibly good mood today. The park has a lot to do with it. Great weather of course. Just woke up on the right side of the bed somehow.
And when I'm in a good mood I like to walk around and take pictures of stuff. Yes, I realize that my job is very hard. Sorry to keep reminding you all of that.
Stuff like this scene to the right. Robin Yount instructing Mat Gamel on the finer points of infield defense. It must have worked, because Gamel put on a defensive clinic at first in the third inning of today's game. He saved Brooks Conrad's bacon with a nifty jump-tag when Conrad threw wide of first on a grounder. The next batter hit a hot shot to first which Gamel gobbled up and most guys wouldn't have.  Now all he needs to do is to find Yount a hat that fits him and his day will have been perfection.
Other stuff I saw while bopping around Maryvale before today's game: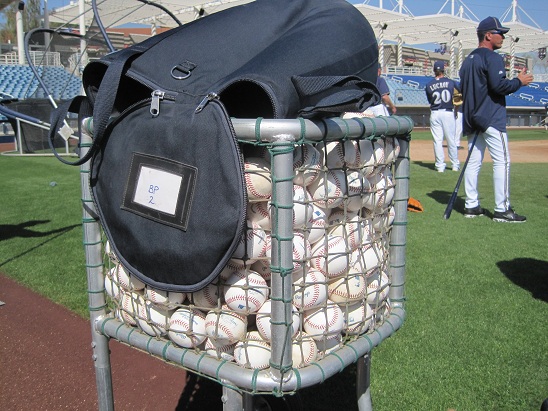 I wrote this morning about how close I came to getting a baseball.  If I thought about it — and didn't mind getting my butt kicked out of the park — I could have gotten a lot of baseballs here.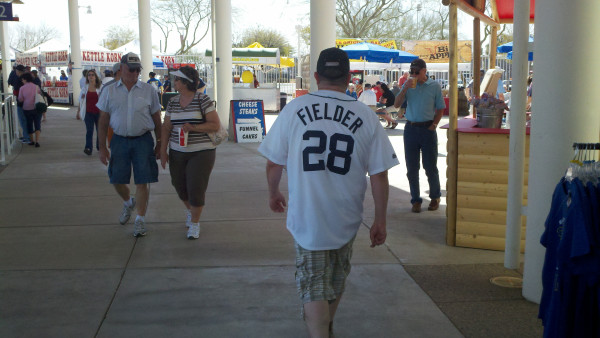 This guy was fun. Wearing a Prince Fielder Tigers jersey at the Brewers ballpark. And you all say I'm a troll. This guy is the troll king. I should look into hiring him.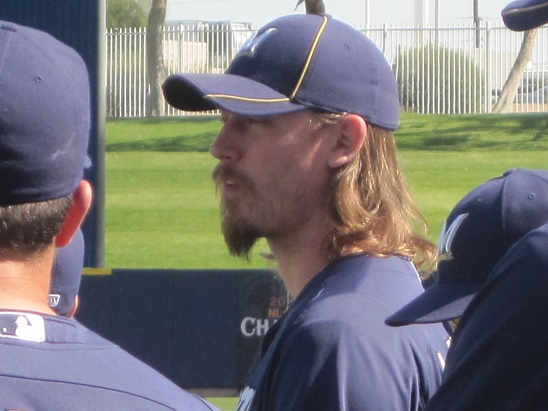 "Dudes, wait … listen … what if the universe is just, like, a particle of some larger atom."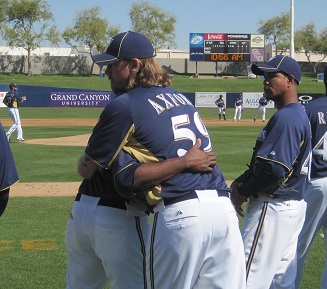 "I know, Frankie De La Cruz … I blew your mind just now. I'm sorry. Here, we can hug the confusion away."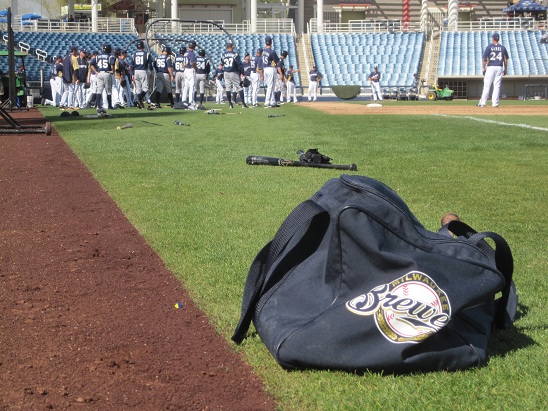 Four parks so far this week, four pics of equipment bags on grass. I have two more to go this weekend for the perfecto. I like my chances.
This was pretty neat. The entire team — and manager Ron Roenicke — was there and watching attentively as others did base running drills. You don't see that very often. Usually teams break up into a bunch of different groups when those kinds of drills are going down. No idea if this is a usual thing or if it was just random happenstance.
I'm watching the game now. Best things besides those Gamel plays so far: (1) Dan Wheeler retiring Zelous Wheeler on a 6-3 grounder; and (2) Ryan Braun walking.
AGAIN.  God, that guy.