Until today I had been to every single Cactus League Park except for Maryvale Baseball Park, spring training home of the Milwaukee Brewers. Everyone who had been here before told me I wasn't missing much. That it was a dump and in a crappy neighborhood and that my time would be spent better elsewhere.
Well, screw them. I like this place. A lot. Indeed, it's up there with another hated-on Arizona place — The A's Phoenix Municipal, where I'll be tomorrow — on my favorites list.
It's not as fancy or as architecturally interesting as some of the new places. And sure, the surrounding neighborhood is a bit on the rough side. But there is something unsettling about the Glendales, Surprises, Goodyears and Peorias of the world. They sit out in these wide open spaces in suburbs that seem to have no organic reason for existing. Really: it's a mega sports complex, some strip malls and some chain restaurants and miles of wide open desert.  It's enough to throw my gravity off.
Maryvale, in contrast, just fits into the area in an unassuming manner. The trees are bigger, as the place is about a decade older than the others. The team office and the minor league facilities blend in nicely, rather than stand out with huge team logos on them. It reminds me of an oldish professional park. The kind you went to see your pediatrician in back in, oh, 1978 or something. I can't really explain it, but complexes like this comfort me in a weird way. It's warmly institutional. I'm not joking. I dig it.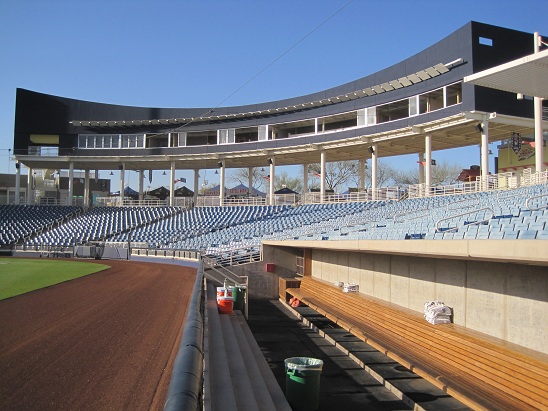 The park itself is cozy and utilitarian. It kind of reminds me of New Comiskey in some ways, in that it was built just before people started building palaces. But it's clean and has good sight lines and as long as you're here for the baseball and not a ten-point entertainment immersion, it's spiffy.  I'm here for the baseball, so this will do just fine.
After I set up in the press box — a nice one, by the way, in that the windows totally fold up and back and open to the field without walls and partitions and stuff — I wandered.  I get to the park early and usually there aren't any players out on fields yet when I arrive, but this morning I came across Norichika Aoki working on his bunting: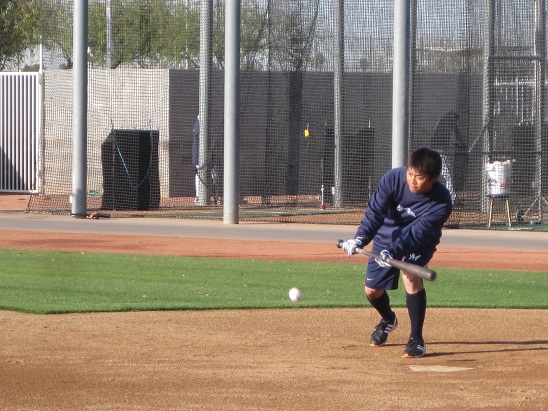 Some Japanese reporters and photographers were there too. Like the institutional buildings, I have come to love the presence of the Japanese media everywhere I've gone the last two springs. It's gotta be the roughest beat around. They're far from home and they're in pitched competition to get something — anything — new every single day from maybe one player. I really admire them and I feel strange if I go someplace and they're not around.
After watching Aoki for a while I went into the Brewers' clubhouse. Not much happening there. Ryan Braun seems to have the day off and both of his lockers were unoccupied. Corey Hart came in on crutches — he had surgery the other day — and gingerly put on a pair of workout shorts and shoes. Dude has a tattoo on top of his foot, by the way. That probably hurt worse than the surgery. Saw Zack Greinke too. He had two cinnamon raisin bagels on a plate and was wearing a polo shirt with baseball pants as if everyone wore that combo all the time. I like Zack Greinke a lot.
I saw Brooks Conrad sitting alone, so I went over there. As a Braves fan I obviously have some mixed feelings about Conrad — he hit some big homers but also made some big errors while in Atlanta — so I wanted to talk to him just to see what he was like. I didn't tell him I was a Braves fan because I thought that would be strange in that setting, but I did say I follow the Braves closely. He lit up a little bit, as he knew that I was going to ask him about the differences between the Braves and Brewers organizations.
I was told by someone later that he had some not-so-nice things to say about the Braves the other day. On this day, however, he skewed diplomatic, talking about how positive the environment is in Brewers camp. I asked him a bit about the approach to hitting in Milwaukee, hoping he'd say something like "the Braves think walks are for communists." He didn't say it in so many words, but he suggested that, yeah, Johnny Narron is a bit more interested in Brewers hitters working the count than Larry Parrish was in Atlanta. Which, honestly, wouldn't be that hard.
When I got done in the clubhouse Ron Roenicke was getting ready to make himself available to the media. As I waited outside of his office in the lobby, I couldn't help but notice this gigantic mural behind the receptionist's desk: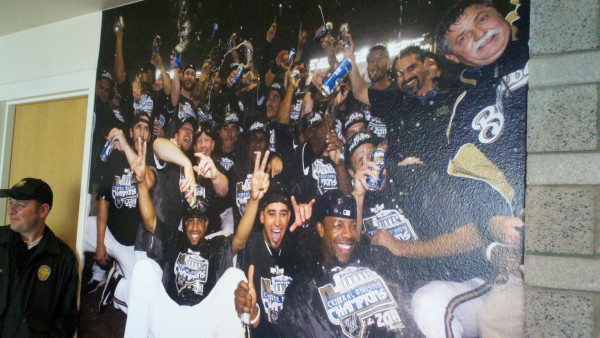 Doug Melvin had me lol'ing for ten minutes.  Did I mention that I really like it here in Maryvale?