Yeah, it's another equipment bag shot. I can't help myself. If you threw a bunch of equipment bags on someone's front lawn on a cloudy day in November, I'd still take pictures of it.
Hanging around the Indians complex here in Goodyear has been great fun today.  For one thing, the place is crawling with Ohioans, and that's good juju. I mean, we can't cook that well and the coasts and big cities frighten and confuse us, but we're really nice. Oh so pleasant.
Also pleasant: the Indians' staff.  I came in this morning with an idea to interview someone, and they gave me (a) the general manager, Chris Antonetti; and (b) the Opening Day starter, Justin Masterson. Each of whom were kind and patient with my sub-par interviewing skills. Of course, as I noted this morning, that means that I'll never write anything honest about them again. Sorry!  Look for the Antonetti interview on NBC SportsTalk tonight at 6PM Eastern.  I'll write something up about Masterson later.
I wish my interactions with the media were so cordial. Sitting next to me for much of this morning was Jordan Bastian of MLB.com. Oh, we're friendly with one another. He's a good reporter and has always been nice.  But today our friendship ended when he — after noting his premature gray hair — said "I'd rather look like Anderson Cooper than Craig Calcaterra."  I tweeted about it and even Gleeman took Bastians's side. The anti-baldness sentiment in this country is intolerable. We're the only minority people feel comfortable slamming. You're all savages in that way and should be ashamed of yourselves.
But I'm not one to be a victim. I took my fight to the top. When I saw this man warming up before throwing some batting practice:
That, my friends, is Manny Acta. Who is himself bald. And by good fortune, Jordan "anti-baldite" Bastian was standing there too.  So I told on him:
Me: Jordan said that he'd rather be gray than bald.
Manny: Nothin' wrong with being bald. My wife says I look good this way.
Jordan: My wife says I look good gray. Wives are good at lying like that.
Me: you should probably take Jordan's media credentials away.
Manny just smiled.  But then he talked about how he could get hair if he wanted to — "get that surgery" — but that "I'm comfortable in my own skin, man."  Of course he is. Because he's Manny Acta and Manny Acta is (a) bald; and (b) bald is beautiful and bald people just understand the world better than the rest of you ugly, covered-up-headed people.
Oh well. And now for no particular reason, I give you a picture of Stevan Pope. The man who has been my cameraman this week.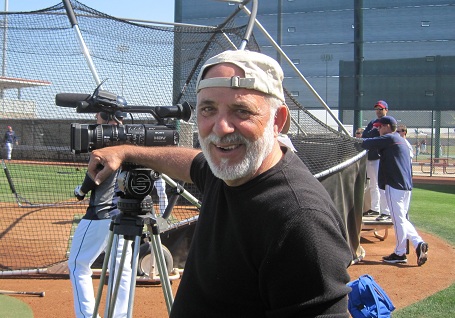 Stevan is really good at not making fun of me for not knowing a damn thing about being in front of a camera.  Nice guy.
Going to the Angels-Indians game here shortly. Talk to you later.