I'm not gonna say that there's a lot of interest in Yu Darvish's first start, but the Padres' PR staff has roped off 100 seats in a section along the third base line as an auxiliary media section.  Yeah, this is not your usual Wednesday morning in the Cactus League.
I got here super early and made my way to the press box to find that every single seat had a name tag on it already, with seats reserved for everyone from Ken Rosenthal on down to the weekend sports reporter of KBFE radio from East Nowhere, Texas. Add to that the usual huge contingent from the Japanese media and we're talking a really full house.
Indeed, and this is not a joke, here is where I set up in the press box when I got here:
A few minutes later someone from the Padres' PR staff upgraded me from the folding tray to a folding table. Which they didn't have to do given that I'm basically squatting, but these guys are really awesome. No joke: other major league PR staffs can take a cue or two from the Padres' people, because they are on point today.
After I got sorted, I headed over to the Padres' facility. Because the Peoria Sports Complex is one of those new mega-facilities housing two teams (the Mariners train here too), it was a long walk, But it's a beautiful morning here. Crisp, a little on the cool side for Arizona, but perfect for anyone who hails from normal climes. I don't mean to brag about how awesome my job is all the time because I know that can be annoying, but sometimes I have to pinch myself when I realize that I'm getting paid to smell the freshly-cut grass, listen to bats cracking from distant batting cages and take in perfect desert-in-winter weather. It's beyond words.
When I got to the Padres' place, I checked out the bulletin board. The lineup was up. As I wrote it down, a man sidled up next to me and said "skip made out a pretty good lineup today, eh?"  I was about to agree when I turned and saw that it was Bud Black who said it. What a jokester. For the record, the lineup facing Darvish today will be Cameron Maybin, Orlando Hudson, Jesus Guzman, Carlos Quentin, Will Venable, Mark Kotsay, James Darnell, John Baker and Everth Cabrera. Not quite an Opening Day lineup, but not bad either.
I made my way over to Orlando Hudson's locker. He was friendly and accommodating like most veterans are. I was kind of worried that the Padres players would get sick of all of the questions about Darvish, but if Hudson was annoyed he didn't show it. He said that he was interested in seeing Darvish up close — he has really only seen his World Baseball Classic action — but that it wasn't that big a deal. It's still so early in spring training that he's just trying to get his timing right and all of that, so it really doesn't matter who he's facing. Makes sense. I suppose the Darvish stuff is more interesting for the media than it is for those guys.
As for Darvish himself: he won't be here for another hour and a half or so. When he does get here, he'll look up and see this, however: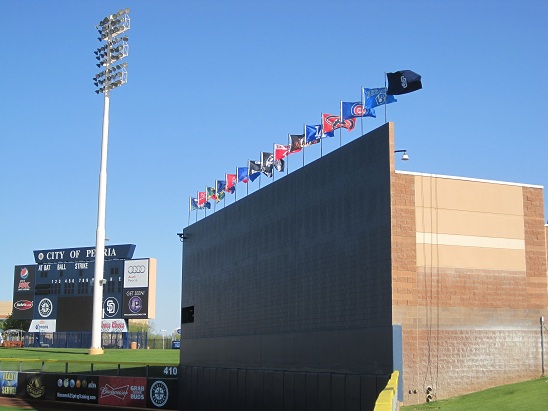 Yep: wind blowing out hard. Since I took that picture it has shifted towards right field a bit, but it's still blowing out strong. I wish Yonder Alonso or some other real lefty power was in the lineup today.  Wind-aided or not, if Darvish gets taken deep a few times I imagine there would be a full-on media meltdown, and that would be great fun.
I'll be checking in later with reports of how the most anticipated two innings in recent spring training history go.