Maybe you don't have to be at a ballpark on a 75 degree day in March in order for it to feel like baseball season, but it sure does help.  Because I gotta tell ya, I'm feeling baseball today.
My last actual working duty of the day happened a few minutes ago. I interviewed Torii Hunter for tonight's NBC SportsTalk show.  You can check it out at 6PM on the NBC Sports Network. I won't give it all away, but I can give you a tantalizing hint of the bombshells I got Hunter to drop: the Angels "just have to take care of [their] business" and it's awful nice that key players aren't injured this year like they were last year.  Just nuts, I realize.
Anyway, when I got done with Hunter I walked around the ballpark for a while before the first pitch.  Stuff I saw: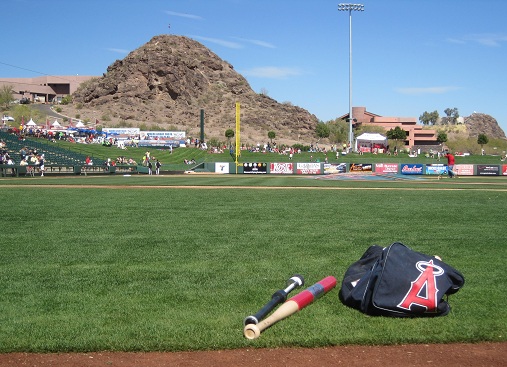 Sorry. I just can't resist the cliche equipment-bag-on-the-field-before-a-game photo. I take it every single time it presents itself.
On the other hand, I probably should resist pics like this:
That was the second orange Marlins cap I saw in the space of about ten minutes. We all said they were ugly. We underestimated the number of dudes like this in the world.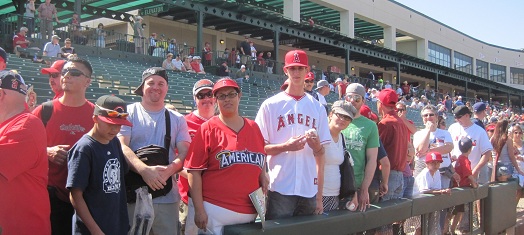 Ah, more traditional fans. All waiting for autographs. I walked in front of people like this along the entire first base line. Three times during my journey I was asked to pick up Sharpie markers people dripped on the field. I'm going to invent a little tether device and market it to autograph-seekers. Or else I'm just gonna stop giving the markers back and hoard them.
Meanwhile: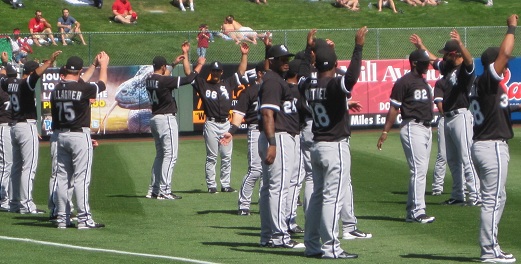 The White Sox put their hands in the air. And they wave them as if they believe there are no repercussions.  Two White Sox were not stretching, though. Dayan Viciedo was being a nice guy: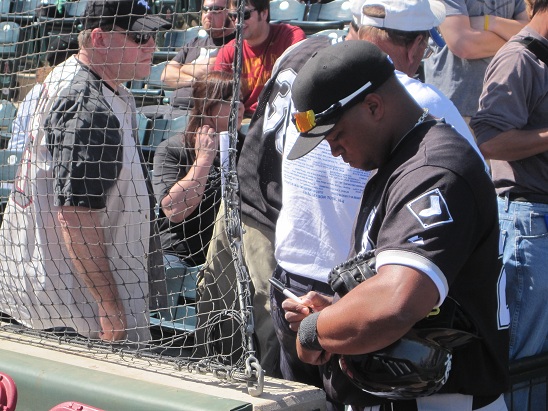 And Adam Dunn was throwing a baseball for some reason. As if that's going to come up sometime this year or something. Whatevs, Adam.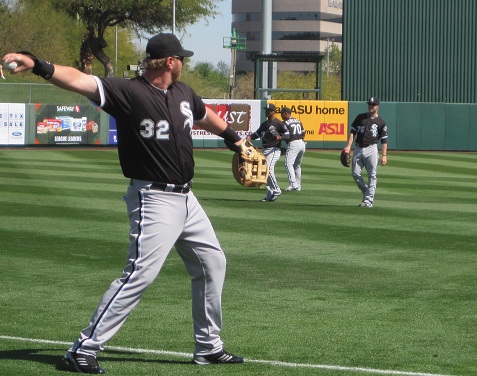 Oh, wait. He got the start at first base today. God, I love spring training.
The game started a few minutes ago. John Danks looks awful through one inning so far, and it's 2-0 Angels.  Who I keep calling the Cardinals because they're wearing red today and Albert Pujols plays for them.
Bear with me. It's still spring training for me too.