I wasn't gonna say anything about this, but you people won't leave me alone, so here it is: no, I am not going to do a "Chipper Jones is in the Worst Shape of His Life" post. And it has nothing to do with me being a Braves homer. I just don't see the evidence for it.
The thing motivating it today is Deadspin's posting of a picture taken at Braves camp the other day in which, let's be honest, Chipper Jones looks like total hell: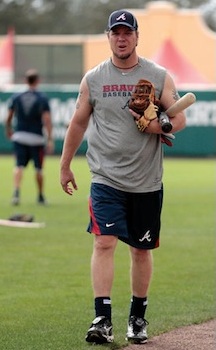 Not good!  But the thing is, it seems like this is more about that picture being unfortunate than it is about Chipper Jones being in any worse shape than he's been in the past couple of years.  Because here's a pic taken of Jones, in uniform, on Monday: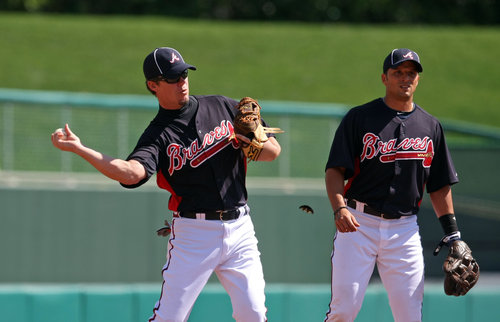 Seems like pretty normal late-model Chipper Jones to me.
Obviously the BSOHL and the more infrequent WSOHL stuff is just for fun, but I feel like we have to at least attempt to be fair.  If a manager says a player has put on some pounds or something, cool.  But if a guy just looks like a 39 year-old in a muscle shirt — which is ugly 100% of the time — that doesn't seem good enough for me, especially if he looks normal in uniform.